Teaching English on your travels is always a great option and with that in mind we've decided to interview English teachers from around the globe. First up we have Henry Casa who is currently  teaching English in Taiwan.  
Wannabe English Teachers read on.. if you don't want to teach have a ganders anyway you might find yourself changing your mind:
Where are you working now?
I'm working in Taiwan, and teaching English at Joy English School, Chungli (About 40 minutes from the capital Taipei).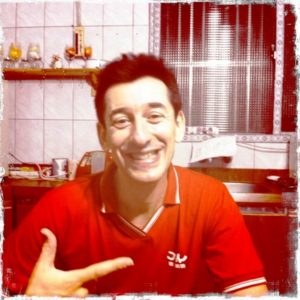 Why did you choose Taiwan?
I chose Taiwan because people here are friendly and treat foreigners very well. I get so much attention from people that I feel like a movie star down here..:)
How much do you earn, and how much does a newbie earn?
Now I get more than $60,000NT a month ($2,000US). I started with a $55,000NT monthly salary ($1,850US) with my salary increasing the longer I stayed at my school.
Out of that, how much can you feasibly save?
Everything here is a lot cheaper than in western countries (from rent to groceries), and the salary that foreigners get is higher than average wage. About saving, it depends on what kind of lifestyle you choose – if you stay in a lot you could easily save half your salary but if you explore the island, drink and go to KTV it will be a lot less. You can save a lot, or spend a lot – the choice is yours.
How many teaching hours do you work, and how many office hours?
I have 100 teaching hours a month, and around 20 office hours a month. This is quite standard when you teach at buxiban schools in Taiwan.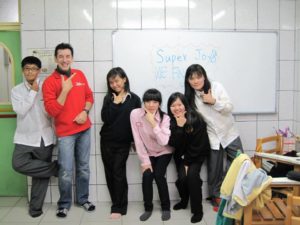 What times are you required to work each day?
On Monday, Tuesday, Thursday and Friday I have to be at school at 3:30pm and plan my lessons for an hour. Then I teach from 4.30pm until 8:30pm. Wednesday are from 1pm to 6pm, and Saturdays 8.00am to 12.30pm
Are there opportunities for overtime, extra hours etc?
In the summer there are extra hours, in the mornings for a couple of months usually around June and July when the children are on their school vacation.
How about the holidays? (Not including public holidays)
About the holidays it depends from school to school. Some schools pay public holidays, some others don't. You can pretty much manage the schedule the way you like it. However, as you only get paid for the hours you teach you can take days off but of course you won't get paid on those days.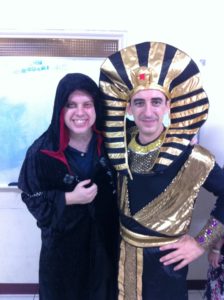 Do you consider this a career or a stop-gap?
For me it's a career but people could definitely teach as a stop gap
What's next for you?
Maybe I'll open up my own business but I have no concrete plans yet.
Would you recommend Taiwan for people who want to teach English overseas?
Sure – I love Taiwan and thinks it's a great place to live and teach English.
What's your lifestyle like?
I'm not a party guy anymore as I have a family to look after. I prefer hanging out with friends, dining out (fancy restaurants are very convenient here, and cheap) and exploring around – there's so much to see and do in Taiwan. (Editors note:  Henry just had his 2nd daughter Isabella a couple of weeks back – Congrats Henry)
Do you have foreign or local friends?
I have both, foreign and local friends.
How easy is it to get a job in Taiwan?
There are many job opportunities around the island, it's not that difficult to get a teaching job at all.
Do you have any advice for people considering Taiwan as their next stop? Any websites to help them or words of wisdom for them?
From my experience, I think Taiwan is a really nice place for foreigners to live. The people are friendly, the food is delicious and everything is so convenient.
If you are nice to people here you'll get a lot in return. About websites, I think you know this already, www.tealit.com and www.forumosa.com are good websites for finding English teaching jobs and any other advice or things you may need.
Thanks to Henry for the interview and if you guys have any questions about teaching English in Taiwan, leave a comment below and we'll get back to you.
Happy Teaching!
Duff