We've established before that teaching English on your travels is a great way to not only fund your travels further but to give you a chance to explore a country more thoroughly. After speaking with Henry in Taiwan previously, up next is Debroah who is currently teaching English in South Korea.
Deborah hails from Pennsylvania, USA where The University of Scranton is located, and after working at Camp Korea in early 2009, her and her fella Ryan enjoyed it so much that they've decided to move back to South Korea to teach for a year.
Wannabe English Teachers read on.. if you don't want to teach have a ganders anyway you might find yourself changing your mind: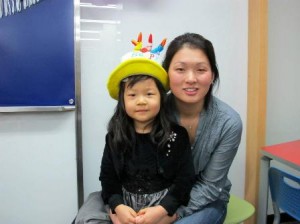 Where are you working now? South Korea
Why did you choose Korea? I chose Korea because I came here in 2009 for a winter camp and absolutely loved it! Korea has just enough to feel uncomfortable yet is modern enough to have almost the comforts of home.
How much do you earn, and how much does a newbie earn? I earn 2.4 million won($2086 US) per month. The average salary is between 2.2 million won($1900 US)-2.6 million won ($2260 US) for a full time new teacher.
Out of that, how much can you feasibly save? I save about 1 million (869.5648 US$)won a month. I do a lot of different things on the weekends and eat out all the time, so if you were trying to save more money you definitely could.
How many teaching hours do you work, and how many office hours? I teach about 9 hours a day with an hour lunch break and 30 minutes of prep time.
What times are you required to work each day? I get to work by 9:30am and the first class is at 9:50am. Kindergarten ends around 2:30 with the elementary classes starting right away. The last class ends at 6:50pm and I leave right after that.
Are opportunities for overtime, extra hours etc? The school told me this was an option, but in reality no, there is no opportunity for overtime.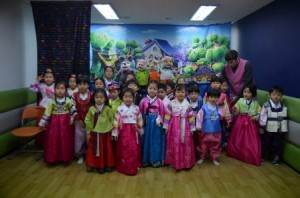 How about the holidays? (Not including public holidays) We get one week for Christmas break and one week for summer break.
Do you consider this a career or a stop-gap? For me, it's both. It is a way to explore more and gain some invaluable experience in a foreign country and attempt to grow up a little. I always planned on only staying here for a year, but I also want to be a teacher when I return home.
What's next for you? Go home and pick up where I left off, find a job, and have adult "responsibilities", whatever that may be.
Would you recommend Korea for people who want to teach English overseas? Yes, I would highly recommend it. If you can stomach being away from family and friends for a year, this is a great opportunity to attempt to find yourself before you dive into the workforce back home. Korean work culture can be quite different from western work culture (more work hours, absolute respect to people above you, no "discussing" or talking back to name a few) so make sure you always keep that in mind.
What's your lifestyle like? Work, eat, sleep, and go on adventures with friends or traveling groups on the weekends which are aplenty here in Korea. The lifestyle foreigners have, especially when they are English teachers are far different from the ones that natives have; it is much simpler and luxurious so be mindful of that.
Do you have foreign or local friends? Yes, I have both.
How easy is it to get a job in Korea? It is both easy and difficult. If you want to be in the center of the center, which is most people, be prepared to compromise and feel awkward for the first few months while here in Korea. Also, if you're a non-married couple who want to live and work together, research well because it's quite hard to find a legit school to work for.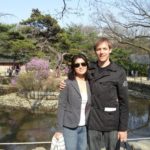 Do you have any advice for people considering Korea as their next stop? Any websites to help them or words of wisdom for them?
Any words of advice.. Hmmm, from the start at least for US citizens, it's quite daunting and time-consuming so be prepared to start the process (of FBI background checks, fingerprints, diplomas, transcripts, visa approval & etc.) Get serious and start the process 4-6 months in advance. Be wary of "neighborhood" academies (aka mom & pop schools) who don't pay on time and there is no support system for foreign teachers. Also, it is good to know that things can change very suddenly in the Hagwon world (after school school for kids; like a cram school in Taiwan) and the foreign teachers are usually kept out of the loop on everything. All the things I was told before I left (hours, classes, living arrangements, etc.) were not really true, so be prepared to swallow your pride and just go with things if you have too.
Some websites that helped us along the way:
http://www.ryansyipyips.com/
http://onestep4ward.com/
http://www.korea4expats.com/
http://www.seoulselection.com/seoul/
Most importantly, remember you're in their country so try not to act like a complete idiot and respect the traditions, customs, and people. Just be open minded in every aspect, but also don't let people walk all over you.
Thanks to Deb for providing a quick Q&A on teaching English in South Korea. If any of you guys have any questions about teaching English in Korea, drop a comment below and we'll get back to you astraight away.

Happy teaching!
Duff