Booking accommodation through a secret hotel website has grown in popularity in recent years, with companies like Lastminute.com, Hotwire and Priceline all offering discounted hotel rates using this system. The concept, where travellers receive better rates without initially knowing the name of the hotel, is an innovative one, but comes with pros and cons.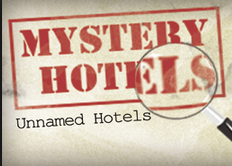 Pros
Savings
The biggest draw of the secret hotel websites is the potential savings to be had. These vary from site to site but are generally up to 40 – 50 percent. Of course, this is up to so achieving these kinds of savings is at the upper level. I checked out three different sites and did a search for a hotel in August in London in the City of London / Tower Bridge area. I opted for four stars and upwards (because I'm a classy guy) and checked out three different sites. All of these are listed on http://www.secrethotels.eu/ .The search delivered rates of £190 – £228, which was equivalent to discounts of 17 – 24 percent on the regular rate. Not at the upper limit but not bad at all.
Taste of the unknown
If Robert Frost's poem, 'The Road Not Taken' resonates with you – especially the last lines '… I took the one less travelled by, And that has made all the difference'; then you are probably the kind of person who will try the secret hotel concept, being happy with some uncertainty. Taking a chance in this way can reap financial rewards, resulting in upfront savings and more spending money for your trip. It may also allow you to discover venues that you would otherwise never have known about.
Cons
Anonymity
As the key feature of secret hotels requires an element of chance taking it will not suit every traveller. What happens if the hotel is far from where I want to be? Well, bear in mind that the secret hotel websites give a certain amount of location information and this can help you to eliminate much of the uncertainty. For example, when I looked on one of the sites for hotels in New York I was able to narrow down the location to Time Square, Midtown Central, Midtown East etc. So, the perimeters can potentially be fairly contained.
Also, remember that there should be few surprises in terms of the quality of the hotels, as their star rating is listed. In the case of some website they also include TripAdvisor ratings. As the latter often comprises ratings from over a thousand travellers, there is a fair amount of surety built in.
Room only
As the deals on the secret hotels websites are usually for room only you will need to factor in the extra expense of buying breakfast. For cities like New York and Paris it is usually possible to eat reasonably cheaply. London can be more expensive but there are still affordable options if you know where to look. Try Time Out for some insider tips.
Also, bear in mind that room only means that the hotel facilities will be outside the package deal, so if you fancy having a spa day, you will be paying extra.
Other than that, you're good to go!