Boasting a warm and welcoming climate throughout the year, sun-seekers have long been drawn to Lanzarote's more obvious charms. Yet with hidden artistic gems, incredible scenery and so many natural wonders to explore, there is far more to the island than its position in the sun.
If you're thinking of visiting Lanzarote but not sure what to do when you're there, check out this guide to some of the top places to visit during your trip. Remember to check out cheapflights.co.uk for flights to Lanzarote to help keep the cost of your trip down.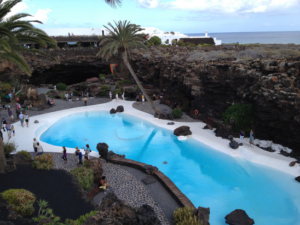 A step back in time
Lanzarote's number one tourist attraction can be found within the Timanfaya National Park. With scenery created by a volcanic eruption that lasted six years, the remarkable terrain has an almost otherworldly feel. What was once verdant farming land is now a living museum of petrified lava in a starkly organic landscape.
There are a number of ways to explore this truly memorable attraction, but most informative is the guided coach tour. Detailed and interesting commentary offers further insight into the incredible natural history on display and even includes eyewitness accounts of the record-breaking eruption nearly three hundred years ago.
An underground wonder
Naturally formed from a collapsed lava tube and enhanced by renowned artist and architect Cesar Manrique, the Jameos Del Agua attracts over half a million visitors every year. A triumph of art working at one with nature, Manrique successfully created a venue for entertainment and relaxation in an underground lagoon. With an innovative concert hall carved out of the island's ubiquitous volcanic rock, Jameos Del Agua is also home to a magnificent pool. Though the pool is reserved for the exclusive use of the King of Spain, mere mortals can enjoy bars and restaurants whilst admiring the tropical gardens and local wildlife.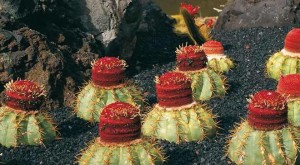 A celebration of nature
Another stroke of genius from Cesar Manrique, this once disused quarry is now an artful abundance of over one thousand species of the world's pointiest plant. Indeed, the Cactus Garden at Guatiza celebrates anything and everything to do with cacti, from sculpture and door handles to the plants themselves.
In addition to commemorating what was once the heart of the island's cactus country, this stylish attraction enables tourists to learn more of Lanzarote's industrious history. And although the cacti are no longer required to attract the cochineal beetles needed to create dye, they remain a stunning celebration of nature that plant lovers can enjoy.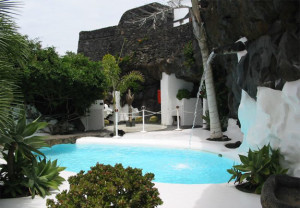 An architectural genius
It comes as no surprise that Cesar Manrique's home is perhaps the pinnacle of what was an incredible imagination. One of the island's most significant historical figures, Manrique constructed his home from five volcanic bubbles in order to prove that Lanzarote was more than capable of becoming a world-class holiday destination.
Completed in the late 1960s, Manrique's wondrous creation won many architectural awards and brought visitors to the island in droves.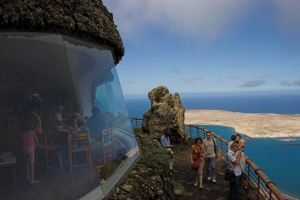 Unparalleled views
Yet again, one of Lanzarote's top tourist attractions has Manrique to thank for its lasting appeal and popularity. In taking a disused gun battery and transforming it into a stunning observation point, Manrique created Mirador Del Rio.
From its enviable vantage point nearly five hundred metres up, the Mirador Del Rio provides amazing views over the sea to the neighbouring islands and beyond. Although not the restaurant that Manrique initially envisaged, the viewing point remains a lasting legacy to his genius and to the many wonders that Lanzarote has to offer.