12,000 kilometers of beautiful coastline, warm sun reflecting off the glittering blue waters of the Indian Ocean. Australian beaches rank among some of the best in the world and Perth beaches are no exception. There's a beach to please everyone—for families, couples, or solo water sports enthusiasts.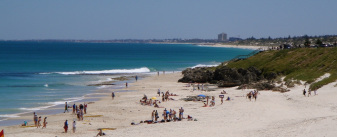 Cottesloe Beach
Cottesloe is not only one of Perth's most well-known beaches, but also one of its most popular attractions. Pristine crystal clear coastline meets manicured lawns and Norfolk pines lining the bustling and prestigious Marine Parade, full of pubs and restaurants where you will find plenty of comfortable spots to relax and take in the views. There is a great variety of entertainment options and accommodations in this area, but they tend to be more expensive than other parts of Perth. On the South end of Cottesloe beach, you will find some spectacular snorkeling spots.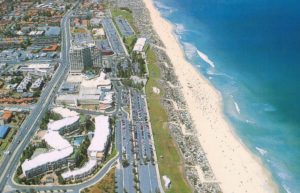 Scarborough Beach
Scarborough is widely held to be one of Perth's finest beaches with a close proximity to the city, allowing visitors to conveniently split their time between relaxing on the beach and taking advantage of local facilities. Scorborough is a great choice for families as it has many large grassy areas for picnics, food stands for ice cream and snacks, and an amphitheater for outdoor concerts and events. This beach is also a favorite spot for visitors in their twenties after the sun sets, as the beach is transformed by pumping bass from popular coastal clubs & bars.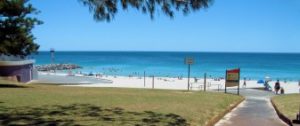 Perth City Beach
Located just 8 kilometers west of Perth is City Beach, home to some of the most modern and luxurious residences in the city as well as a world class restaurant. Perth City Beach has won countless awards as one of Perth's best, and offers plenty of great activities from great swim spots to fishing or body boarding. At Perth City Beach, you will find many great Perth Hotels, click here to see a list. This beach offers a children's play area as well as barbeque facilities, and is a popular spot for ultimate frisbee.

Sorrento Beach
20 minutes northwest from Perth you will find one of the best swimming spots in the area, with white sandy beaches and crystal clear waters. Sorrento Beach holds a close proximity to Hillary's Boat Harbour where you will find plenty of great eateries and cafes as well as Seacrest Village Shopping Centre for basic shopping and commercial services.