People from all walks of life utilize waterproof bags for kayaking, boating, swimming, canoeing, hiking and swimming trips. These dry bags are designed to keep water out while offering durability and portability. For individuals who like to venture outdoors in unfavourable weather conditions or trek through rough, moist terrains, a waterproof bag is a necessity. The bag is designed to offer a broad range of benefits, which are listed below.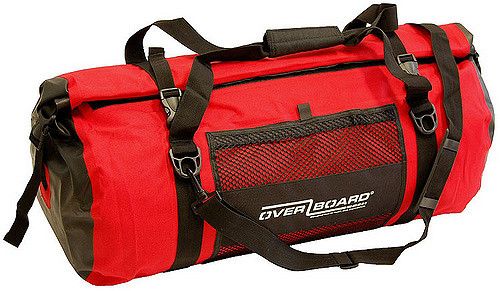 Source: Flickr
Superior Portability
With so many different styles, brands and designs on the market, a waterproof bag should offer nothing less than superior portability. Whether you are walking or riding a bike, the dry bag should be easy to tote around. To ensure superior portability, many manufacturers have included a removable shoulder strap with their bags. Some of these will also be equipped with an ergonomic handle, so you can carry the bag in your hand. The handle will allow give you quick and easy access to the bag and full control.
Usable Anywhere And Anytime
There are some bags that can only be used during good weather. If you store all of your clothing in a bag that isn't waterproof, you're going to run into serious problems. Just imagine heading outside in the rain and allowing the water to seep through the material. Your clothing will get ruined. On top of that, your electronics and other items will be destroyed. This is why you should consider making the upgrade to a waterproof bag. With this type of bag, you'll be able to use it anywhere and everywhere. It doesn't matter if it is raining, snowing or the sun is out bright, you'll always be able to use the bag and your items will always be protected.
Just remember that not all bags are equal. Take the time to read the best dry bags buying guideto ensure you get a bag that will protect your items to the fullest.
Will Last A Lifetime
Another thing to remember is that waterproof bags are bound to last a lifetime. Bags that cannot stand up to the weather will be far more likely to break down and fall apart much quicker. This is one of the perks of investing in a dry bag. These bags are manufactured with higher quality materials that will last much longer. If you want to invest in a bag that you'll be able to use for many, many years, you should make sure that it is a dry bag. They'll most definitely out survive the alternatives.
More Protective
Finally, you should realize that a dry bag is far more protective than the alternatives. There is no doubt that you're going to want to protect your clothing and electronics to the fullest. This is why you should invest in a waterproof bag. With a waterproof bag, you'll be able to prevent rain from seeping through the bag and ruining your smartphone or tablet. You'll also be able to keep your clothing dry and fresh. No matter where you're going, your waterproof bag will keep your items dry from start to finish.