Many people marvel at travelers for being able to afford trips that take them to the far reaches of other continents for long periods of time. But you don't have to be super-rich to make traveling worth the experience; you just have to be innovative. Instead of logging extra hours at your 9-to-5, try to think of ways that can help you make money before your trip (while at the same time preparing you for the journey) and during your time away. If you're stuck for ideas, here are five helpful ones.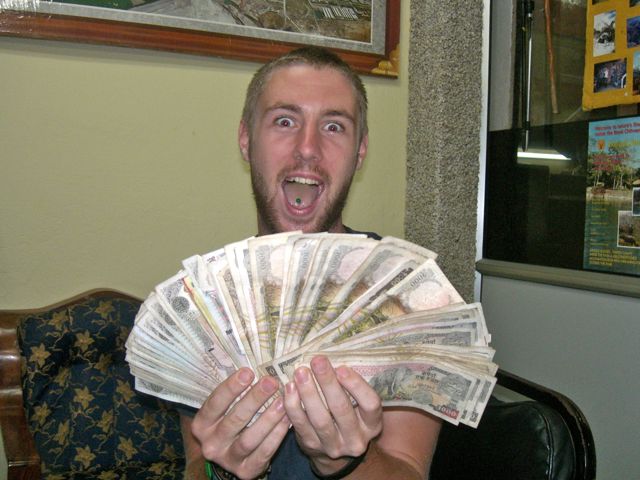 Sell your stuff before you go. If you plan on taking an extended trip, you're probably wondering where you're going to store all of the belongings you'll be leaving behind while you're gone. A useful way to make money for your trip is to sell all the things that you don't use or don't need anymore. You can get rid of clothing and furniture easily with a yard sale or by posting them on Ebay or Craigslist. You can also do away with smaller items like your vast collection of CDs and video games by selling them online with a service like musicMagpie.com. You'll be able to save a little more cash and save on storage rental while you're gone.
Share your adventure on a blog. While you're away, you'll want to share your experiences with family and friends back home. A common way to do this is to create a travel blog detailing your adventures. However, this could become another source of income throughout your trip if you can make it a quirky, niche source for travel information. Monetizing a blog, or writing reviews for other publications, may not provide a steady stream of cash, but it's great for helping you make ends meet.
Test run your teaching skills. You'll find that searching for work opportunities abroad may be even easier than at home. This is because as a native English speaker, you have a skill that people in many other non-English speaking countries want to acquire. You can test run your skills as an English tutor by finding students who are studying English as a second language before you even embark on your journey. Then, after you've developed surefire tutoring lessons, you can charge a small fee in other countries for beginner lessons. Not only is this a way to make money abroad, but it's also an easy way to connect with locals and make your trip more meaningful.
Hunker down at a hostel. For the backpacking type, hostels are a go-to for cheap lodging while traveling. But they can also be a lifeline if you run out of money mid-trip. Many hostels make a habit of hiring fellow backpackers because they believe those are the types of hosts that can be the most helpful to guests hoping to learn their way around a new town. For checking in guests and pointing travelers in the right direction, you could earn a small stipend, plus room and board.
Become a tour guide. Have you found an adventure tourism company that's a little short on staff? If you are charismatic and eager to help, you could find work in the short-term by signing up fellow travelers for different tours. This is another job where your English-speaking skills could come in handy.
These are just a handful of opportunities waiting for you. Your cash flow is only limited by your imagination when you travel.