I recently had the opportunity to review the JimmyCase and was very impressed. For those of you that don't know what this is, it is a great brand that makes premium cases for iPhones as well as well as a standalone wallet called the SlimJimmy wallet. I had the opportunity to review the wallet iPhone 5s case and thought I would write a little bit about it.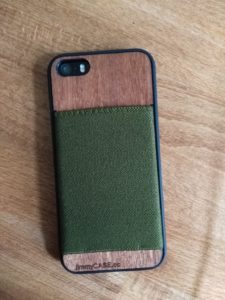 Packaging
The packaging was nice and simple with a clear plastic bag that was a bit thicker and good protection for the product. It is great to see that the case is made in the USA and this is also on the packaging, which was a very nice touch too. Of course products made in the USA are usually of a very manufacturing standard and this iPhone case with card holder was no exception.
The case
Now to the good part, the case itself looks very good as you can see in the photo above. It is a combination of black plastic that protects the sides and parts of the back, there is also a strip of real mahogany wood to protect the back of it. On top of the wood is an elastic band that acts to not only protect the phone, but also to carry you cards and cash. This effectively turns your phone into a wallet, which is very convenient. The case was sturdy and looked very good, which may be a very important factor for those looking for a good iPhone case.
Using it
As I talked about above the back of the case has a coloured elastic strip that you can store cards and cash in. In order to use this you simply push the bottom of the card and it is then accessible from the top of the elastic band. I found this very helpful und would be the ideal solution for a traveler who needs to carry only a few things and doesn't have the space for a wallet and phone. This is especially case when you think that smartphones are only getting bigger and wallets never seem to be getting smaller.  Your cards are also very secure and there is a special technique to removing the cards where you push the elastic at the bottom to get the card to come out.
Conclusion
I was rather impressed by the case and the high quality components used to make it, especially the hard wearing mahogany on the back. The elastic band is also a nice touch too and it is always a bonus when you want combine your wallet and phone into one simple package. I would highly recommend this product for anyone that wants the convenience of a wallet in a phone case and for those that need to carry a little less.