New Zealand is the land of the Kiwi. It sits just to the south west of Australia and is a great destinations for backpackers to travel to. I feel that NZ gets overshadowed by its neighbor. Most of what I hear when talking to aspiring backpackers as yourselves is the desire to travel to Australia. I get that; great weather, fun relaxing people, great nightlife, and awesome accents. I also am a fan of people wanting to travel to anywhere. But as I have said before, we like the road less traveled here and I feel NZ can be part of this road because so many people take the one to Australia. Here are some of the best things for travelers to do in New Zealand.
Visit the Waitomo Caves
In the Waitomo Caves live glow worms. These creatures are exactly what they sound like, worms that glow. While traveling through the caves the worms illuminate the ceiling and walls of the caves creating a surreal effect that makes you feel more like you're in outer space than in a cave. There are a few options to consider when going to see the glow worms. There are guided tours that take you hiking and rafting into the back of the caves but these are expensive. I prefer the free option which is just down the road from Waitomo Village. A trail into a section of the caves starts at a car park off of Tumutumu Road. I think it is a good idea to do the hike, about 40 minutes, in daylight first to get your bearings and then again when nightfalls to see the real show, glow worms lighting the walls and ceilings.
Rangitoto Island
Visiting Rangitoto Island is another cheap option for travelers. The island was created by a volcano many years ago and now serves as a great place to catch beautiful views of the mainland. It is close to Auckland and only costs $21 USD for ferry ride out to and back from Rangitoto. Make sure you plan an early day for your hike as the last ferry usually leaves sometime in the afternoon. Also, you will find no shops or trash bins on the island. So pack a lunch and take your trash home with you. Seriously, take your trash home, don't be a jerk!
Tongariro Crossing
Another great hike (is there a theme here?) for travelers is Tongariro Crossing. It isn't the most popular trail but I like to think thats a little bit better. It's about 19 km (11 miles) and offers different shades of black, red, brown, and gray in the soil of the land and rock of the mountains. The contrast of these colors against the blue and green of lakes is quite beautiful. Many people knock this hike out in one day, but if you feel like slowing down and taking your time there are conservation huts along the way that will offer a place of shelter for the night. Bus tickets to the trail will run about $25 USD. The hike can be difficult and you shouldn't try it in the winter without a guide. Medical help is pretty far away, so remember that before pushing your limits too far.
Chrischurch to Auckland Road Trip
This is one of the craziest road trips that a person can take. The drive is about 16 hours. Obviously, this can be done in one day. But that wouldn't as fun as it should be. Many people take up to two weeks to complete this journey. There are various towns and sites to see along the way. You can stop and spend nights in Rotorua, Taupo, Napier, and Wellington to name a few. All of which offer their own sites to see and things to do. There are several volcanoes and mountains that make for a beautiful road trip. But be ready to be alert as you drive. The road curves around glaciers and up mountains where the wind also becomes a factor. This is the kind of trip that I imagine would be better with a travel buddy. No one wants to drive 16 hours by themselves! Trips like this would require you to rent a car, which in turn should make you consider a car insurance policy for traveling.
Be a Hobbit
YOU CAN ACTUALLY GO TO THE SHIRE. I just wanted it to be clear that going to Middle Earth is a real thing and you can do it in New Zealand. This is where the three Lord of the Rings movies were filmed and the newest installation, The Hobbit. There are tours you can take of the movie sets, which are really just Hobbit homes in the middle of a gorgeous New Zealand landscape. You can book tours to see all of the different places that the characters travel through in the films. You can go to Edoras or do the walk to Mordor. There are tons of options all over New Zealand as many locations were used during filming. The Shire is on the Alexander Farm about 2 hours from Auckland. You can turn your trip into quite the adventure by walking in the shoes, well hairy feet, of Frodo, Sam, and Bilbo.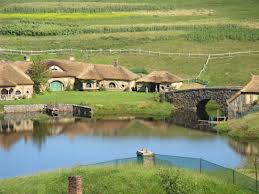 –Nick