Hey fam! Hope you all had a happy holiday. I apologize for bringing this post on the scene just a tad bit late, but it will be good for future reference. Although the 25th of December is meant to be a day to spend with your friends and/or family, the frequent traveler may not always have that option. And if you do but want to get away anyway, here are some great spots you can go to get yourself in the Christmas spirit.
New York, New York USA
The Big Apple likes to do everything big and holidays are no exception. Each year at Rockefeller Center the City imports a massive tree from somewhere in the USA. This is one of my favorite places to go visit around Christmas time. The tree is covered in colorful lights and with a beautiful crystal star placed on top. The ice skating rink placed at the bottom of the tree is a nice touch to add a cheerful wintery effect, unless you can't skate, in which case you may not be so cheerful falling down on the ice. The ice and tree draws such a large crowd that being there is usually a mad house, and not quite off the beaten path like we usually enjoy here at Aspiring Backpacker, but it is still a staple of NYC in the winter time. If you really want to ice skate I would skip it at Rockefeller and go to either Central or Bryant Park.
Napapiiri, Lapland Finland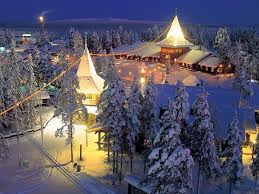 When you are in Napapiiri you would be hard pressed not to run into something that makes you scream inside your head "IT'S CHRISTMAS!!!" This is because you will be in Santa Clause Village and Santa Park. In both the town and the park you can tour one of Santa's workshops, find plenty of Santa swag, meet some reindeer, and talk to the man himself. You can personally request anything you want and talking face to face should ensure that you get exactly what you want under the tree. Santa also has a personal post office in the town, one of a few from what I understand. There may not be a place closer to the action than here around that wonderful time of year.
Amsterdam, The Netherlands
I don't know if you know, but Amsterdam isn't just about the party but also all about Christmas. Santa Claus was the name derived from the Dutch name Sinterklass, different name but same guy with a big white beard who hands out presents to good kids. The difference there is he visits on December 5th and on the 25th people get together with friends and family for food and drink. White lights cover the city and if you're lucky enough the canal will freeze over and turn into one giant ice skating party for all of the city to enjoy. There is nothing like warming bars and cafes in Amsterdam during the holiday season.
Boston, Massachusetts USA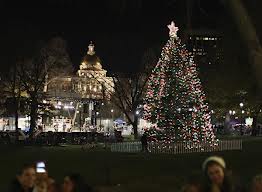 I know I have already plugged the Northeast USA on this post, but both cities are great places to go to around Christmas time. While NYC goes big, Boston goes old school. The cobblestone streets are lit up thanks to over 2,800 gas lamps and white lights wrapped around the trees all over the city. A tree is set up at historic Faneuil Hall and if there happens to be some snow, Boston becomes an unforgettable holiday city.
San Juan, Puerto Rico
Not everyone is a fan of the cold, ice skating, snow, or your typical Christmas thoughts. Some enjoy an escape to the beach with warm weather and short sleeves, can't say I blame them! If this is more your style definitely check out San Juan. The people of San Juan string multi-colored lights through the palm trees and instead of egg nog drink coquito. A nice alternative for those of us who like rum (I might be pointing at myself right now). One of the coolest parts about Puerto Rico for Christmas is that they celebrate for two weeks. The parties start on the 25th and don't stop until the Three Kings Day on January 6th.
I know theres nothing like home for the holidays but these just may be fine destinations! Hope you had a good day yesterday and are preparing for next week's New Year's celebration.
–Nick