The world is a large and vast place. Every corner, nook, cranny, and crack in the wall has something to offer that none other does. There are some countries that are hot spots for backpackers (Italy, Spain, England, France) and there are a few reasons for this. First, each has several beautiful cities which means lots of resources for backpackers. Accessibility to resources can be an added comfort when on the road. Second, the countries themselves are quite accessible. There is no shortage of routes in and out of these countries which gives backpackers flexibility in planning their trip. Thirdly, they have some of the best sites and attractions in the world. While I love each of these countries, I tend to enjoy my experiences visiting places in the world that aren't so mainstream. Enter Georgia. This small country in Eastern Europe has a lot to offer and unfortunately, many people may skip over it when planning their trip. If you hit it, you'll have stories and experiences that few others do. Here are some things to do and see that should make Georgia a stop on your next trip.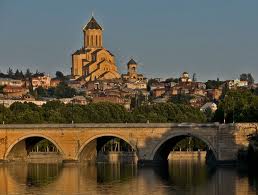 Georgia is home to around 4.4 million people which is pretty small in the grand scheme of the world and is covered with beautiful mountains, fields, and lakes. These all are a postcard in themselves. One thing that backpackers should be sure to visit are the churches. Two of the notable churches in Georgia are the Ananuri Church (more on that later) and the famed Tsminda Sameba Church (Church of the Holy Trinity). There two Churches of the Holy Trinity in Georgia. One is in the capital Tbilisi. This is a more modern looking church placed in the city. Its construction finished in 2004, making this quite a new destination for travelers. This is a good first site to hit as the international airport is in Tbilisi.
The second Church of the Holy Trinity that I recommend to see is next to the village Gergeti under Mount Kazbegi. This church can't be more of an opposite than the church in Tbilisi. It was built in the 14th century and rest on the top of a mini mountain. There are two ways to get up close and personal with the church. You can take a half hour jeep ride up or, my personal choice, a three hour hike to the top. You can make an entire day out of hiking in the shadow of Mount Kazbegi.
There is a Cave Town in Uplistsikhe that is a UNESCO World Heritage site. This is one of the oldest establishments that has been found, dating back to 1,000 B.C. It was a fortress that was a cultural center and housed several basilicas and was in its prime between the 9th and 11th centuries until the Mongols came in town a pillaged the entire thing. But you can still visit what is left today.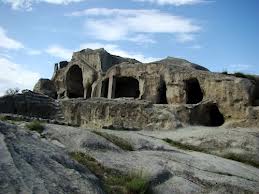 Another interesting town to visit in Georgia with some history is Gori. This town has historically been a strategic military point to hold. It has been invaded several times over with the most recent being by the Russians in 2008. So pay attention to international relations when visiting, you don't want to catch yourself in the middle of a takeover! This is also the town where Joesph Stalin was born. The town has simultaneously embraced and rejected their affiliation with Stalin. There is a Stalin museum in the town and a monument of him in front of the Gori City Hall until 2010 when the monument was taken down. But strangely enough in December of 2012, the town of Gori voted to reinstate the monument. So there is a good chance you will be able to see it, unless they change their mind again!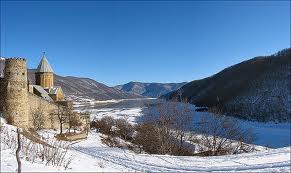 The Ananuri Church and Fortress is a castle complex and another great site to see. The castle complex sits on the Aragvi River and is about an hour outside of Tbilisi. This complex has been attacked many times making it a site of numerous battles and a peasant uprising. The view of the lake and the surrounding mountains make the castle complex a beautiful site and it is on the waiting list for admission into becoming a UNESCO World Heritage site.
Georgia is an awesome place to visit and above is only a few of things you can do. Not to mention the people are warm, friendly, and fun. This country also happens to run cheaper than most of its European counterparts which is always a plus in my book. Georgia should not be skipped when galavanting through Eastern Europe!
–Nick