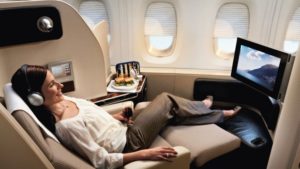 Flying business class is undoubtedly exciting and luxurious, but it's also pretty expensive too. You may get a fully flat bed and VIP treatment, but the cost also eats into the price of your holiday. So is flying business class worth it?
In order to assess whether business class is really worth it let's look at the main differences between the two:
Price
If you fly in economy class from London to New York with British Airways you can expect to pay anywhere from £400 upwards for a return trip. Business class meanwhile will set you back around £1300 return. The cost to fly business class is therefore more than double what it would cost to fly economy at full price.
However, there are numerous ways that you can fly business class without breaking the bank. One way is to book with a specialist business class travel agent – these companies sell unpublished fares, offering up to 50% off the published rates. For instance, if you give SkyClub a call they can quote you heavily discounted rates on business class flights privately over the phone.
Another way to fly business class for almost free is by doing a bit of travel hacking. Simply sign up for an air miles credit card to earn miles every time you shop. You'll usually get a sign-up bonus when you join, plus you can refer friends to get extra miles when they sign up. If you put all your spending on the card you can soon earn enough miles for a round trip business class ticket. All you have to do is pay the taxes, so in this case business class is definitely worth it.
At the airport
If you're holding an economy class ticket you have to wait in line with everyone else at the check-in desk, but with business class you get your own dedicated check-in area and sometimes priority lanes through security. You also benefit from a larger luggage allowance, so if you're travelling with lots of luggage you can avoid those excess baggage fees.
As an economy passenger you're left to explore the airport or sit at the gate, but if you're a business class passenger you can make use of the airport lounge. Airport lounges vary in standard but you can expect drinks, snacks, comfy chairs, showers and a business centre.
If you do decide to fly business class it's definitely worth arriving to the lounge early so you can make use of all the facilities on offer. You can take a shower, sit back and catch up on work or even enjoy a full meal before you board the plane.
Seats
In Economy Class you're sitting in a cramped space with very little legroom. Seats may recline a couple of inches but you won't be able to lie down in a fully flat bed in business class.
If you're flying long-haul, business class is really worth it just to be able to get some sleep during the flight. No more back ache, no more pins and needles in your legs. You'll usually have your own private space with a comfortable seat, plenty of legroom and a large entertainment screen for watching movies. There are larger overhead bins for your carry on bag and lots of little storage spaces at your seat for things like laptops and glasses.
Food
Let's face it, the food in economy usually leaves little to be desired. Omelettes that taste like foam, questionable sausages…you can never quite figure out what anything is supposed to be. Everything tends to be squeezed onto a little plastic tray so you never quite know where to put things.
Meanwhile business class is more like dining in a world class restaurant. A member of staff will usually dress the table for dinner and all your dishes are served on real tableware, not those plastic trays. You can expect a multi-course meal served in separate stages, with a selection of fine wines to match. Even before take-off you'll be presented with a glass of champagne and nibbles, which you'd never receive in economy.
They say that once you've flown business you can't go back, and this is definitely true. Once you've had a taste of business class it's really hard to imagine flying any other way. Whether it's worth it or not depends largely on whether you can afford the price tag, but if you have the money then it's like being introduced to a whole new world.