The smallest state in all of India, Goa is a wealth of wonders, history and fecundity. From its World Heritage Architecture sites and spice plantations to its stunning coastline and surfing, visitors to Goa have been astounded by the region's verdant landscape and sense-stimulating offerings for decades. From surfers and health nuts to the devout and curious, Goa makes for an excellent trip.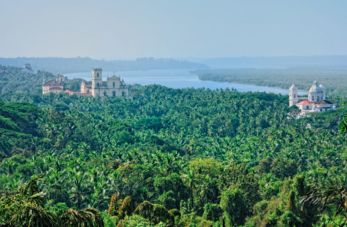 There really are scores of reasons to visit Goa for a holiday, and some of the best ones are also the most unassuming. If you like to bargain shop, wander in the woods and eat your fish with spicy and memorable curry, then Goa is certain to be your new paradise. Here is a look at the best in Goan flea markets, forests and fish for the traveller who needs a break that will really reward.
Flea Markets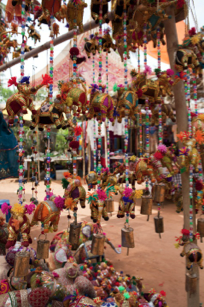 There are two main flea markets in Goa, and they both deserve a visit. Spices, tea, sandals, herbs, bread, jewellery, instruments, clothing, people-watching — both markets abound in things to peruse, purchase and gawk over.
Anjuna Flea Market. Located at Anjuna Beach, the Anjuna Flea Market got its start in the 1970s when tourists and foreigners wanted to be rid of their used cameras, clothes, watches and any handmade items they'd created. Now, a major attraction in Goa, the Anjuna Flea Market is open every Wednesday from 11:00 a.m. until sunset. There is usually live music, which helps maintain the festive atmosphere at the market. Whatever you're hoping to buy, be sure to go hungry so you can enjoy the fare cooked up by local food vendors.
Arpora Saturday Night Market. Every Saturday night you'll find that the Arpora Saturday Night Market has taken over Arpora Village. Because it's a night market, the lights, people and atmosphere feel a bit more like you've entered a strange and colourful party than a flea market. While there is much to see and buy, one of the primary highlights of Arpora's Night Market is the stage, where artists perform throughout the night's buying, selling, bargaining and milling about. Not for the early-to-bed set, the Night Bazaar starts at 7:00 p.m. and lasts until early Sunday morning.
Forests
While its beaches are certainly responsible for drawing most of the tourists to the area, the forests of Goa should not be overlooked. They are some of the most dense and bio-diverse in all of India — and not just with trees. An impressive variety of other flora, as well as fauna abound in Goa's woodlands, which cover almost 40 percent of the state. From deciduous trees and semi-evergreens to mongoose and barking deer, the hills of Goa are fecund almost beyond believing. Because of the diversity that is present in its forests, Goa's Forest Department works hard at conservation and preservation efforts. From hiking to bird watching, if you enjoy the woods, there is much to experience in and among Goa's forests. Some of the highlights include:
Wildlife sanctuaries
Dudshagar waterfalls
Salim Ali Bird Sanctuary
Fish
Because it's situated right on the ocean, it makes sense that Goan cuisine relies heavily on seafood. In fact, a Goan meal is considered incomplete if it doesn't include fish. In addition to the ocean's contributions, the tropical climate also allows for particular types of foods, herbs and spices to be utilized. Coconuts, rice, ginger, tamarind and kokum are all relied upon heartily and regularly. In addition to the geographical reasons for the components of its cuisine, Goa was also a Portuguese colony for 400 years, which not only brought about a different way of cooking than was utilized in other, more traditional Hindu areas, but also saw the introduction of food items like potatoes, pineapples, cashews and tomatoes. The result is exceptional and unique cuisine unlike any other in India. Nowhere is this reality more easily and obviously experienced than in a simple, Goan fish curry. Fresh fish, tamarind, fresh coconut, red chilies, onions, tomatoes, garlic, turmeric, kokum, ginger and coriander all combine to create a rich fish-centred gravy that is tangy, spicy and very Goan, and all of it is served over rice.
Spend some time in Goa, and discover what a holiday can really offer. From staying up all night at a flea market to hiking past waterfalls in old-growth forests, Goa's unique gifts will keep on giving long after you've eaten your last spoonful of fish curry.