Targeting the Canyon Lands
The Canyon Lands aren't exactly America's best kept secrets.  On the average, it receives over 440,000 visitors each year, beginning their tours at the popular National Park near the town of Moab, located in the northern edge of canyon country.  Moab offers some of the most challenging trails for the rock crawling enthusiasts, as well as a dizzying display of red rock formations, breath taking views of the Rocky Mountains, and trail access along the Colorado River.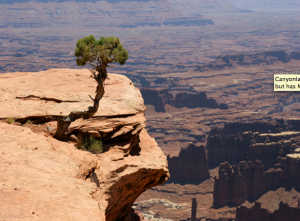 Traveling to the southern end of Utah's Canyon Land will take you to the San Juan County Four Corners side of the great divide.  An incredible array of choices for visitation are all within a short driving distance, including Arches, Lake Powell, Monument Valley and the Grand Canyon.
Apart from being one of the most spectacular natural wonders on earth and a chance to visit prehistoric ruins, the Canyon Lands are the ideal off road driver's terrain.  The Park is riveted with off-roads, many of which are accessible only with four-wheel drive or on foot, including the Needles district, which is noted for its white-banded pinnacles, as well as arches, canyons, grabens (depressed blocks of land bordered by parallel faults) and potholes.  These potholes are not the ordinary ones, usually associated with mud filled dips on back country roads.  They are naturally occurring rain-filled sandstone basins filled with their own unique eco-systems of winged insects, tadpoles, fairy shrimp and other microscopic invertebrates.  Their systems are extremely delicate, so do not drive through them.
Canyon Land trails are marked from easy to extremely difficult.  Some are over fifty miles long.  Cautions includes below freezing winter night temperatures and flash floods during Monsoon season.  Trail users are advertised to carry their own drinking water as there is none provided along the trails.
America's Least Known Road
The Dempster Highway, also known as the Yukon Highway 5 and the Northwest Territories Highway 8, is quite possibly the most unique road system in North America.  The four hundred mile highway begins in Dawson City, Canada, with final destination at the small village of Inuik.  Originally a dog mushing trail, the road was first opened in 1979 in response to the oil discoveries in Alaska's Prudhoe Bay.  There was oil in Canada's Arctic Eagle Plains as well, and Canada did not want to be overlooked.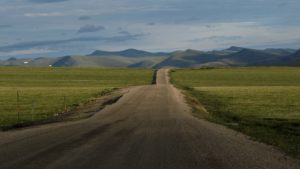 The road was designed to carry equipment, infrastructure and revenue to and from the oil site.  It was not, nor will it ever likely be paved.  It is constructed on a gravel berm to allow stability in a land that would quickly destroy asphalt from frost heaves and sinking from permafrost melting.  Although a magnificent adventure into a pristine wilderness that includes an abundance of wildlife, among which you'll find Dahl Sheep, wolverine, Arctic Fox, bears, mountain goats, wolves, lynx and over a hundred species of birds, Canada does not actively campaign the Dempster's tourist potential.  Home to the Porcupine caribou herd, it was determined that human hunting was the worst enemy of the caribou.  Initially, there was a great deal of concern that the 170,000 herd would change its migrational pattern with the building of the road, but it did not.  To this day, you can watch the caribou unconcernedly crossing the highway during your trip on the Dempster.
Features of the Dempster Highway include ferry crossings over the major rivers, sometimes washed out areas of the road, and an ice trucker road in the winter, extending it another hundred miles.  In the 1990's, Northwestel erected microwave towers along the highway to facilitate public safety and provide communications for the department of transportation and the Royal Canadian Mounted Police.
South Africa: The New Off Road Haven
While South Africa is most commonly noted as a land of diamonds and gold, recently shaking off the confines of apartheid, it is also one of the most diverse countries on earth, with a spectacular coastline attracting thousands of surfers and other water enthusiasts each year, an abundance of wildlife, with grasslands, forests, desert and lush tropical zones.  It is ranked sixth among the world's seventeen mega diverse countries.
Four wheel drive is the only way to navigate some of South Africa's often un-kept and poorly maintained roads, but what a drive it is!  Along with the flourishing landscape, you can thrill to the sight of rhinos, ostriches, lions, zebras, all in their natural environment.  The people are as diverse as the landscape.  Over seventeen languages are spoken, with life styles ranging from rural dwellers living in huts to gracious estates. It is advised that the first time you take your four wheel drive onto the South African off-roads; you go with a guide so as to learn your navigational skills and test your endurance.  There are hundreds of campsites along the trails for leisurely overnight stays.
Next Stop; the Panama Canal
The air is scented sweetly of pineapples and bananas, exotic flowers and coffee plantations.  The scent is heightened by ocean breezes coming in from both the west and the east.  The land distance between the narrow strait of Central America is so narrow, the effects are like being on an island.  On the eastern side is the Caribbean, smooth and unruffled as glass.  On the western, lies the Pacific, booming with white, curling surf.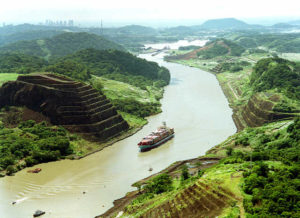 Central America is a land of long, rolling hills, edged with rain forest and laced with rustling savannahs.  Although many of the roads are paved, it is like a half-hearted attempt at organization.  They are not kept up.  Many are filled with ruts and broken surfaces.  When the Monsoon season arrives, roads flood and often wash out.  Then, only vehicles with high clearance can navigate these rain soaked roads.
It's a driver-beware world going into Panama.  There are few road signs, including stop signs, directional signs or caution signs.  Even in Panama City, you will not find many stop lights, and street lighting is very poor.  Although Spanish is the dominant language, the people are very friendly and helpful.  Because the citizens primarily use the bus system, traffic is light, except for pedestrians.  Once you have reached the Panama Canal, however, you have reached one of the most remarkable engineering feats in the world, a fifty one mile gate between the Atlantic and the Pacific, and the dividing line between Central and South America.  The only question left will be, are you satisfied with designation Panama, or do you wish to press on.
Red Centre Australia
Deep in the center of Australia is its heart, known as the Red Centre.  Here stands the incredible sandstone rock formation, Uluru, and neighboring Kata Tjuta, considered by the aboriginal people to be the sacred beginnings of earth.  These monoliths have a different appearance from every angle of approach, and their colors deepen from sunrise to sunset.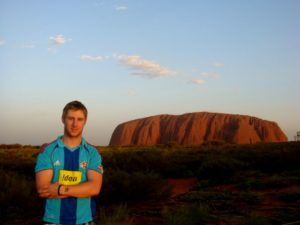 Visiting Uluru is an "outback" adventure that includes a visit to nearby Alice Springs, Australia's most famous back country town, surrounded by desert and the jagged peaks of the MacDonnell Range.  Also close by are King's Canyon and Finke Gorge National Park, a 460 kilometer oasis in the desert, with stunning rock formations, plenty of water and rare species of plant life.  The mode of transportation is bush-whacking, camel or four wheel drive.
Australia is extremely enthusiastic about its four wheel drives.  It holds yearly off road races and expeditions, even hauling travel trailers behind their vehicles as they sink to their axles in mud banks, navigate creek crossings and plow through impossibly loose sand.  The more challenging the road conditions, the better they like it.  You can go anywhere in Australia and find off-roads to explore to your heart's content, but the prime destination should be to its Red Centre.
About the Author: Karla Fetrow is an experienced off-road driver tackling some of the toughest terrain in the U.S in Alaska on a daily basis. Having been raised in the remote areas of Alaska, it is common knowledge to the rural inhabitant that there are places you just can't go without a Jeep, Jeep Wrangler or other sturdy off-road vehicle.  Karla frequently writes on behalf of Extreme Terrain.