This is a Guest Post by Nate Ginsburg from Town Bubble
So, you are going to NYC; awesome! The only problem is that it seems your wanderlust might be writing checks that your wallet can't cash. Fear not, Traveller! NYC can be a crazy expensive trip but it doesn't have to be. Follow these tips on where to stay, what to do, and what to eat and you'll have a blast in NYC while still maintaining your budget.
Where To Stay:
Finding a place to sleep in NYC is obviously a must and can get pretty pricey. If you don't have any friends where you can crash, the first place you should look is Airbnb. Airbnb is an amazing platform that allows locals to rent out rooms or beds in their homes to travellers. In NYC, there are a ton of really sweet spots you can find for less than $50/night! And, Airbnb hosts are usually pretty cool people and can be great local tour guides.
If even Airbnb is out of your budget you still have some options. Look into Couch Surfing where people rent out rooms, beds or couches in their homes for free. However, if you have never Couch Surfed before, the community can be a little hard to break into. But, for the price, it's tough to beat.
What To Do:
Yes, so many things in NYC are obnoxiously expensive. But, there are still a ton of things you can do to experience New York on the cheap. For example, my personal favorite activity: walking around and exploring.
Walking around is honestly my favorite thing to do in NYC as there are an infinite amount of fascinating things going on everywhere and all the time. A few spots you shouldn't miss are as follows.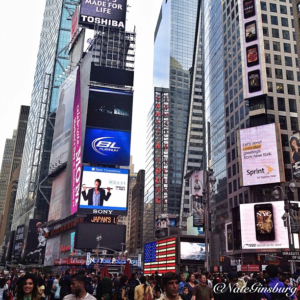 1. Time Square/Midtown
Personally, Times Square/Midtown is not my favorite place to go exploring as it is always packed with tourists. But, if you are a tourist, then you will fit right in . Times Square/Midtown is always buzzing with excitement! Whether its 4 in the afternoon or 4 in the morning you will be sure to see some sort of spectacle happening in this part of town. The people watching here is epic and you can spend as much time as you want just observing for free.
2. Central Park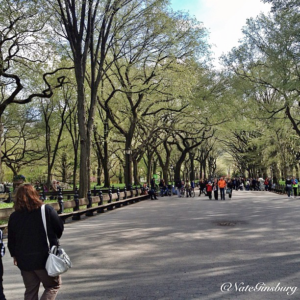 Another great spot to spend hours just walking and enjoying the scenery is Central Park. Central Park is massive and you could easily fill an entire day exploring its various paths, meadows and lakes. When in the heart of CP, it's crazy to think that you are still in the midst of one of the biggest cities in the world. Definitely not a spot to miss, and it's easy on your wallet.
3. Broadway
Start in Midtown and take a stroll down the famous Broadway Avenue. You will pass tons of cool shops vying for your attention (and dollars) as make your way downtown. You'll also hit a few of NYC's best parks, which are great for people watching and just taking in the city. Relax for a bit in Madison Square Park and Union Square on your way down into SoHo and you've practically spent a day without spending a cent.
4. Washington Square Park/ The Village
No trip to NYC is complete without spending some time in Washington Square Park. WSP is absolutely amazing and is constantly brimming with excitement. You'll find all kinds of street performers and musicians offering hours of entertainment at every hour of the day. And, when the sun goes down and the Washing Square Arch is lit up, the park just feels magical.
Wander south out of the park and explore some of my favorite streets in all of NYC. Bleeker, MacDougal etc are filled with the coolest little shops as well as some great eats. Head west to check out the gorgeous and upscale West Village or keep on heading south to explore vintage SoHo.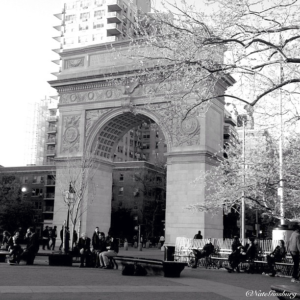 What To Eat:
So now you are sleeping and are enjoying some of the coolest places in the city while maintaining your budget, but you still have got to eat. For breakfast, have a famous NYC bagel. There are bagel shops everywhere and you can get a breakfast sandwich for only a few dollars. Then, for lunch, get a hotdog or a kebab from one of the many street carts. Delicious, classic, and cheap. For dinner, look into one of the many daily deal options such as Groupon or Living Social. You can find great deals on fancy restaurants and enjoy the finer side of NYC at a fraction of the normal cost.
Now you know where to stay, what to do, and what to eat to have a blast in NYC without going broke. Enjoy your stay and soak up the greatest city in the world!
Nate is a writer for TownBubble.com which recently featured a post on The Top 10 Cities With Jobs in 2013. If you liked the article or pictures, connect with @NateGinsburg on Twitter and Instagram!