How you're going to get money abroad is an important factor to consider before going on any international trip. I researched and implemented various options in dealing with my travel money while on my RTW trip. Here are the results of my findings.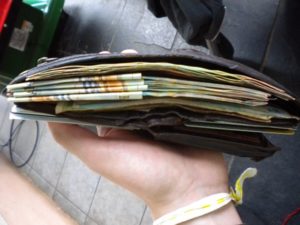 Before you leave
The first thing you should do is to call your credit card and debit card issuers to inform them when and where you'll be going. Doing so will prevent your account from being locked under suspicion of fraud for sudden international charges. If you want to know how trigger-happy the fraud alert system is, take this into account: buying several one-way international flights before my trip caused my account to be frozen.
The second thing you should do is look into getting a debit or credit card that doesn't charge foreign transaction fees, which are typically 2-3% of your purchase, if you are going to be traveling frequently, long-term, or living abroad. There are several options available, research and find the best fit for your needs.
Credit Cards
Best for: accommodations, airline tickets
My experience: On my trip, I brought one credit card with me (Visa). It was mostly for use in emergencies, but it definitely came it handy when I started running out of money. I used it for last-minute flights and some hostel bookings.
Using a credit card is great in instances when renting a car, as they usually put a temporary deposit on your account. This prevents your actual cash from being tied up. The downside to credit cards is that they aren't widely accepted in many Asian countries. However, I was able to get a cash advance at an ATM.
Debit/ATM Cards
Best for: getting foreign currency
My experience: I brought one debit card with me to extract money from ATMs worldwide. Occasionally I used it for larger purchases, such as tours and event tickets. Once, I was charged for a withdrawal that didn't go through. I called my bank and they issued a refund immediately to my account.
The pros with having a debit card is that it's the cheapest and most convenient way of getting money in the local currency. The fees are typically less than they are at a money exchange kiosk. By having a Mastercard debit card, I could charge purchases in stores in most countries.
The bad thing about using debit cards abroad is the cost to use an ATM. For example, in Thailand, I am charged a $5 fee by the ATM, a $5 fee from my bank, plus a 3% foreign transaction fee. Keeping this in mind, take out large amounts to cover your expenses as to minimize your ATM usage.
Cash
Best for: starting out
My experience: I converted about $100 into foreign currency for every country I was to visit before I left town. Since I visited 11 countries, I had $1000 in cash on me starting out. It's a risky, unconventional move, but I enjoyed having money in advance.
The pros of having cash in the local currency in advance was that I could resist taking money out at the airport, where fees are often inflated, and I could wait until I got into town. It was advantageous to have small bills starting off (particularly in countries in SE Asia), which you can't always get from ATMs. Also, my bank gave me a pretty decent conversion rate and did not charge commission.
The biggest con is that you are at risk for having your money stolen. Plus, with a ubiquitous amount of ATMs worldwide (barring some countries), bringing cash is unnecessary. If your plans change, you may lose more money having to re-exchange it. This happened to me when I had Hong Kong Dollars and ended up not going.
Other Methods
I did not use traveler's checks, but very few merchants accept them these days, especially in Asia. The positive side is that they're secure and can be easily replaced if lost or stolen.
Unless you're in a real bind, try to avoid having money wired to you at all costs. I've done it once in order to quickly get out a large sum of cash, since ATMs put a limit on daily withdrawals. It resulted in a $130 fee due to a 10% processing charge. Ouch.