The hub of the backpacking world, Thailand – home to Koh Phangan full moon parties, Khao San road buckets, elephant treks and Chang beer. For first time travelers, this is often the first stop on the trail and it's a great way to break yourself into life on the road.
Be warned by backpacking buddies, Thailand  is not as cheap as the rumours may suggest. That being said, if you're savvy, have a few bartering skills and aren't overly reliant on western food you can certainly get by on a small budget.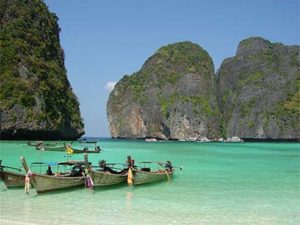 I'm going to talk about the cheaper options, naturally you can eat Wagu steak and stay at the Four Seasons, but this website is for budget backpackers, so let's have a look at how much it costs to travel in Thailand:
ACCOMODATION:
Bangkok is the most expensive place to stay, but if you're willing to do without aircon and TV then you can easily pick up single rooms for around 250 Baht per night ($8).
Dorms are a relatively new sensation in Thailand, in Bangkok they're becoming quite common. Ironically though, they're not much cheaper than the budget singles because they normally come with hot showers and air-con, around 300 baht ($10).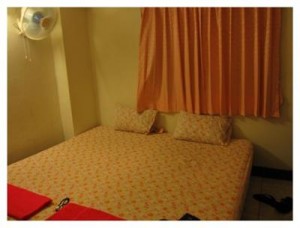 Outside Bangkok, you can find accommodation for around 100-150 Baht ($3-5) quite easily if you look around. Again, this'll be basic – perhaps a dilapidated beach hut or a shack in the town centre, but hey – it's only for sleeping right.
FOOD:
Cheap, cheap, cheap. Keep it local, eat on the street and in markets and avoid western food. Standard prices for street food is about 30 baht ($1). So rice and curry for lunch and dinner, some fruit for breakfast and you're looking at less than $5 per day for food. Yes please.
BOOZE:
Certainly the downfall of most backpackers and their budgets. Beers in the convenience stores run at $1 per can and $1.80 per big bottle, double that for drinking in a cheapish bar.
Buckets run around 250 baht on average ($8). The real damage comes from imported drinks, where pints of Guiness or Stella cost $10+ and shots around $8. Stick to the local whisky folks, you'll be fine (sort of).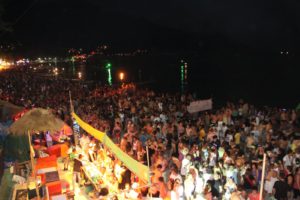 TRANSPORT:
Avoid the tourist buses and go local, don't pay commission to your hotel to book tickets for you. Head to the bus stations and buy the tickets yourselves. Generally speaking, you'll be looking at $2 or less per hour of travel i.e 12 hour bus = $24 (700 baht).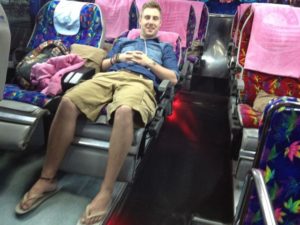 TOTAL BUDGET FOR THAILAND:
Ok folks, undoubtedly when you first arrive you'll party too hard, buy too much sh*t and have yourself an awesome time BUT after you get over that then you should aim for $30 a day (900 baht) maximum. Let's break that down:
FOOD:                                                 $5                    150 baht
ACCOMMODATION:                          $7                    210 baht
BOOZE:                                               $20/4#           600 baht/4#
TRANSPORT:                                      $22/3*           700 baht/3*
$24                 743 Baht
# denotes one night on the booze every 4 or 5 days or so
*denotes transport divided by 3 because you'll probably move on every 3 days or so on average
Ok, so around $25 per day plus $5 wiggle room for externalities and activities (motorbike taxis, splurging on the odd cheeseburger etc).
If you're burning through cash much faster than this then you need to tighten your purse strings guys! Remember, the less you spend the more you can travel! Happy travels!