The United States is a huge country. Everyone who learned geography at some point knows this, which probably means the only people who didn't realize are those who live in the USA. While I am a Northeast boy and most of the headlining cities in the USA are in the Northeast, there are great cities on the other side of the country. Portland is one of those cities. It is strange, exciting, and fantastic all in the same breath. If embarking on any road trip Portland is one city you must hit. Here are five of the coolest and maybe strangest things you can find to do.
Play Basketball at Mt. Tabor
Mt. Tabor is on the east side of the city. There is a great park for people to check out that overlooks the city. It is great for hiking and relaxing. I purposefully mentioned playing basketball because, as I said, Portland can offer a strange twist on regular things. Mt. Tabor is a volcanic vent left over from the last time that Mt. Hood erupted. In this vent there is a basketball court. I don't know anywhere else where you can play basketball inside of a dormant volcanic crater. Work on your jump shot and hope anther eruption isn't brewing.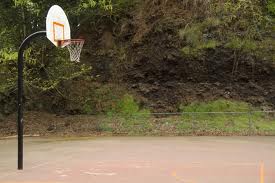 Live Like a Monk
If you are into very off the beaten path experiences you may want to try and be a Monk for a month. It is just outside of Portland in Lafayette. You can contact the monastery and set up a stay. You will be given a mentor who will show you around, help you bake fruit cakes and bind books. Also, be prepared for a 4:15 prayer service every morning. This is sure to be one of the most unique experiences someone could have.
Dig Out a Triceratops
This activity got my little Anthropologist heart pumping a little bit. Somewhere around the timeline of 65 million years ago a baby Triceratops was crossing a river, and unfortunately, it wasn't successful and drowned. But now, you can volunteer to help brush away at the years, and I mean YEARS, of mud that has built up. How often do you get the chance to help clean off a dinosaur? In Portland you can!
Go Hang Out in Cathedral Park
There are giant towering gothic arches that run through the park supporting the Saint John's Bridge. This is where the park gets its name. These Arches are quite beautiful. But I must give full disclosure and tell you to beware as the park is probably haunted. And by probably, I mean definitely. Children used to take a bus to go to the park pick strawberries and raspberries for money during the summer months of the year. In the 1930's, the story goes, a little girl was waiting for the bus to bring her to the fields and was kidnapped and murdered. Now on summer nights, when the park isn't filled with jazz music or festivals, you can still hear the girl scream. So like I said, beware before you take a midnight stroll.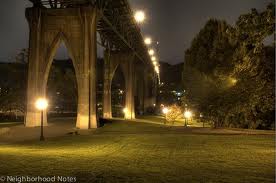 See the World's Largest Hairball
I promised strange in the beginning and I don't know if it gets weirder than the world's largest hairball. It is 2.5 pounds and it was found in the gut of a three hundred pound pig in the 1950's. It sounds gross, and I bet it is. You can see it at the self guided museum at the Benedictine Mount Angel Abbey and Seminary along with several other weird and possibly disturbing things.
Don't worry there are not so strange and weird things to do in Portland also, like go to Powell's Bookstore. The store is huge and you could spend an entire day there. Not to mention the rest of the mountains and beautiful hiking land around the outskirts of the city.
–Nick