Backpacking is one of the best ways to get to know a place, and in a country like Spain it's ideal. Spain is a 'safe' destination for anyone new to backpacking, and boasts a rich, varied culture and history, with some of the most spectacular landscapes in Europe.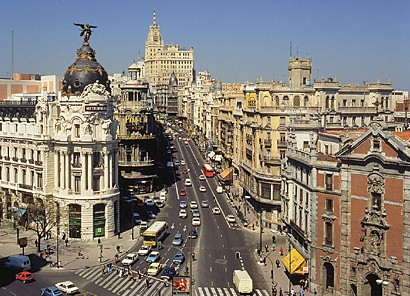 Spain is the fabled land of Don Quixote, ancient cities like Toledo and Seville, some of the most colourful and exuberant festivals in the world, and the most exquisite castles outside of Germany. Whether it's mouth-watering regional cuisine you're after, high culture in cities like Madrid or climbing in the foothills of the Sierra Nevada, there are cheap holidays to Spain advertised constantly across the media – you're nigh on guaranteed to find something affordable, even if you're travelling last minute.
Spain is famous for many things, from bullfighting, sandy beaches, Moorish palaces and tapas bars to Flamenco and Zarzuela, or Spanish operetta. Backpacking here will allow you to immerse yourself in all facets of this fascinating and atypical European country. It's not an expensive place to travel around and many of the things the Spanish people enjoy are absolutely free. Many still love their siestas in the long, hot summer afternoons, and these don't cost a penny. In the evenings you might like to join the locals as they linger over wine and tapas in elegant plazas, well into the early hours.
The parks in cities like Madrid – such as the great Retiro Park – are ideal for just hanging out in and catching a few hours siesta, and all the museums have hours in the day when they're free to enter, typically in the evenings. You can linger over a beer and tapas all afternoon in most bars, which you might have a problem doing in the likes of London or Berlin.
If you're looking for somewhere a bit off the beaten track, or have had enough of the bigger cities like Barcelona and Madrid (if that's even possible), you could try heading down to Granada to explore the region around the Alhambra. This is a big tourist destination, of course, but there are plenty of picturesque towns and villages around there that the tourists usually omit, and the air is the freshest you'll ever breathe, courtesy of the nearby Sierra Nevada and its distinctive, Zeppelin-shaped clouds.
Or what about the incredible Basque region, nestled in the sublime Pyrenees at the opposite end of the country? If you come here in July you can take in the annual traditional Bull Run through the streets of Pamplona and join in the festival atmosphere. The Spanish are amongst the friendliest people on earth and before you know it you'll be dragged into a bar or even welcomed into someone's home to continue the party and be plied with food and drink.
Wherever you fancy going in Spain, your backpacking trip will reveal a side to the country that most tourists miss and you'll get to meet real people on their own terms as well as see some of the most fascinating places on the continent.
David Elliott is a freelance writer who loves to travel, especially in Europe and Turkey. He's spent most of his adult life in a state of restless excitement but recently decided to settle in North London. He gets away whenever he can to immerse himself in foreign cultures and lap up the history of great cities.