I don't think the image of backpackers to those outside of the backpacking world envision us lapping it up on beautiful beaches with umbrella drinks. The stereotype is closer to unkempt, in need of a shower, and sleeping in a dodgy hostel. As we all know here that just isn't true. Backpackers often visit and stay in some of the most beautiful places in the world. One place that I've been dying to take my backpack to is Lanzarote. This beautiful island in the Canaries has plenty to do on it that it'd be a backpackers dream. Here are five things in Lanzarote that I will be sure to get to when I get there.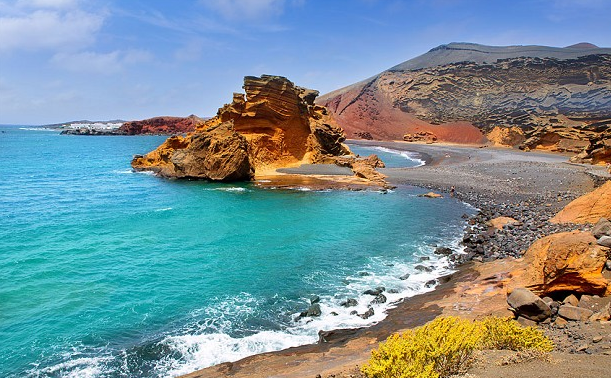 Timanfaya
You can't talk about going to Lanzarote without planning to go through Timanfaya National Park. There's a reason that this National Park is one of the most popular attractions on the island. There are volcanoes at almost every turn and massive fields of lava that are a true marvel. While it actually sounds a bit terrifying, I think this would be one of those things that a picture can never really do justice. To top it off the volcanic rock can range from different tints of blue, red, yellow, and orange.
Wine Country
I do love my drinks. Whether it be wine, beer, or cocktails I'm a fan of them all. What I also really enjoy to do is learn about the process of the things being made. I like to know what goes into making the drink before it hits my glass. The oldest winery in the Canary Islands is on Lanzarote and it dates back to the 15th century. I'll be sure to make a stop in the La Geria wine region to see the fields and try some house wines.
Jameos del Agua
Cesar Manrique is a famous architect on the island. He has created some of the most beautiful, unique, and exciting creations on the island. One of these creations is the visitor's center, auditorium, restaurant, bar, and museum, which used to be a lava tube, at Jameos del Agua. Manrique combined the geology of the area to build into and around it. Creating a space that seems to be one with nature.
Play in the Water
Being a beautiful island in the canaries, there are of course plenty of options went it comes to going to the beach. Some of the best surf spots in the world are at the beaches Caleta de Famara and Caleto Caballo. Since surfing is something I'd love to learn, I think this would be a proper place to learn. You can also find places to wind surf, dive, bum out on the beach, and even take a submarine out into the ocean. All sounds awesome to me.
El Golfo
On the western side of the island is a small tiny lagoon that attracts a good amount of visitors each year. The reason being that the lagoon has a pure green color that you would be hard pressed to find in any other body of water. This jade colored lagoon is a gorgeous compliment to the red rocks that surround it. I think it'd make for a great day hike.
-Nick