The Hawaiian landscape is a dazzling gem of ancient volcanic cliffs painted with vibrant, lush fauna that bounds into deep-blue Pacific waters. The amazing spectacle can only be enhanced by one thing — height. These tropical hikes wind through lush vegetation to high, volcanic structures and offer the most pleasing, panoramic perspectives on Oahu.
Koko Head Trail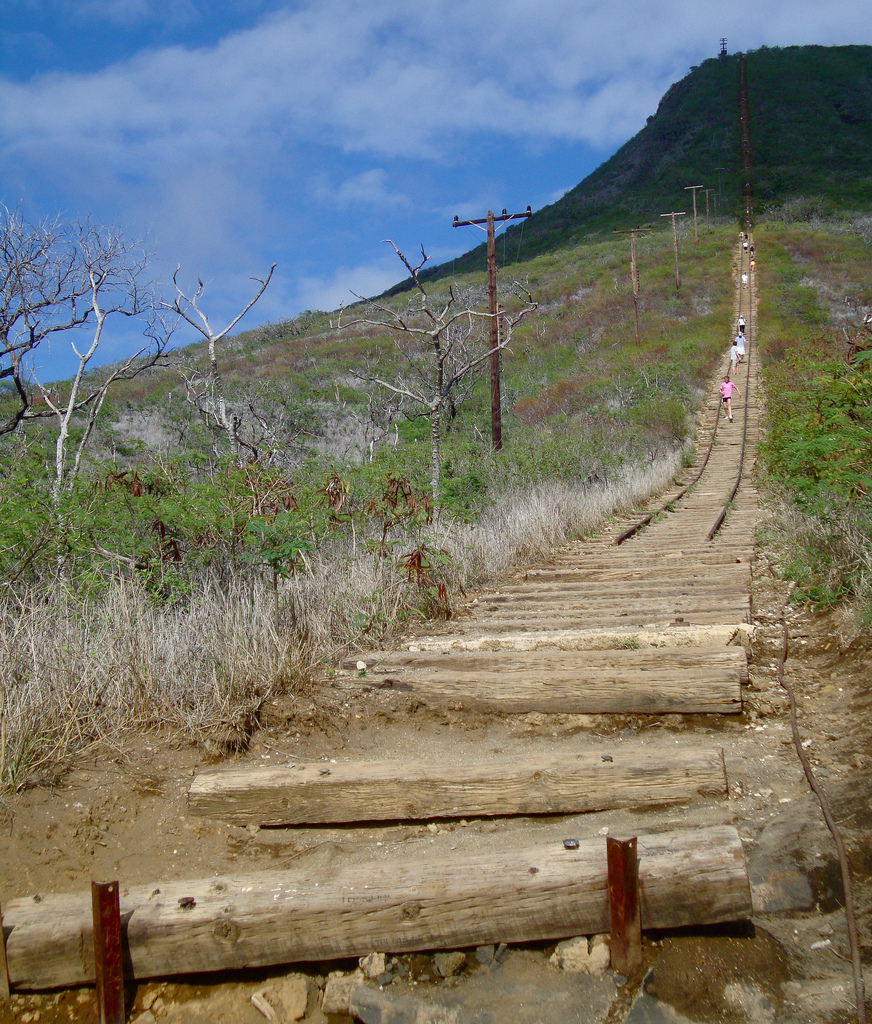 Image Via Flickr by karendesuyo
A moderate climb suitable for anyone with average hiking abilities from young teens to retirees, the Koko Head Trail skirts through bare tropical foliage for a short distance before thrusting into a fairly steep ascent along the crater. After ascending the 1000-plus step railroad tie staircase, you stand on the lip of the volcanic Koko Head Crater. Relax and drool over a panorama that encompasses all the Hawaiian islands and the glittering blue Pacific.
It is only a half an hour drive from Honolulu to the trailhead, so it's a convenient hike for vacationers who want to leave the city behind for a few hours.
Diamond Head Crater Trail
Part of Diamond Head State Monument, this hike extends up the slope of Hawaii's most historical and renowned crater–Diamond Head or Le'ahi, in Hawaiian. The prominent crater dates back hundreds of thousands of years, and the hiking trail is more than a century old. But it has more than geological history to offer. The crater served as a post for directing artillery assaults from Fort Ruger.
You can enjoy scenic views, ancient geology, and relatively recent history as you rise over 500 feet to the crater's edge. Once at the top, the views are spectacular, spanning 360 degrees and taking in all the islands. The hike is less than a mile long, but it is difficult, so it isn't well-suited for younger kids, but for experienced hikers it is well worth the effort.
Olomana Trail
The two and a half mile Olomana Trail serves up a satisfying challenge. It carves along the edge of Olomana Ridge and offers enticing views of the mountains, the Pacific Ocean, and Kailua. This trail involves scaling boulders and skirting along high cliffs, so it's not for the faint of heart. If you want to brave the hike with help, you can book a guided excursion through a service like Massimo Sport Hawaii.
It's accessible through the Royal Hawaiian Golf Club; you can park outside the course to get to the trailhead. When you are sufficiently sore from your hike, you can take the short drive to Honolulu and crash in the comfy hotel that you booked via Gogobot.
Manoa Falls Trail
A simple hike just outside of Honolulu, the Manoa Falls Trail takes you into another world, one where movie-style scenery comes to life. The short (slightly less than a mile) but sweet hike up to Manoa Falls reveals views of the waterfall, which provided the backdrop for scenes in movies like "Jurassic Park."
Makapuu Lighthouse Trail
Set on the eastern edge of Oahu on a prominent point, the Makapuu Lighthouse is a beacon to seafarers and tourists alike. The moderate length trail runs 2 miles through mainly dry terrain and rocky ridges and rises 500 feet in elevation. The views of the coast are exceptional.
Hawaii is more than a haven for honeymooners and sun-seekers. Active families with a thirst for adventure will love Oahu's trails. Pack up your hiking boots and get ready to climb in paradise!