Backpacking is an exhilarating experience. Being able to travel without the burden of strict itineraries and large amounts of luggage is an incredibly liberating experience that everyone should experience at least once. The thought of planning a backpacking trip can be daunting at first but, in reality, planning a backpacking trip is a fairly straightforward process. This article will provide 5 tips to help ensure that a backpacking trip will run as smoothly as possible.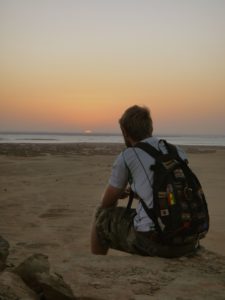 #1 – Arrange backpacker travel insurance
Unfortunately, large numbers of backpackers fail to arrange travel insurance before embarking on their journey leaving them stranded in case accidents occur or illnesses strike.
To avoid this problem, it is important to arrange travel insurance to ensure that medical assistance is readily available at a minimum of cost. It's also important to arrange backpacker travel insurance rather than regular travel insurance as most regular travel insurance policies do not cover longer backpacking trips.
#2 – Don't pack too much
Many backpackers over prepare for their trip packing too many items in their bags. Many also make the mistake of bringing guitars and other pieces of equipment that are fragile and difficult to transport.
Choose a backpack that is of a decent size – 50L will suffice for most. Then, make sure to pack only the essentials. Carefully consider whether each item of clothing or equipment will be useful on the trip or whether it will be dead weight.
#3 – Research visas in advance
While most countries hand out visas on arrival, many countries like Vietnam and China require that visas be applied for in advance. Make sure to research the visas needed to enter certain countries far in advance and, if necessary, apply for the visas, too. This will help to prevent any visa issues when trying to enter the country.
#4 – Decide on a budget
Some backpacking locations are expensive while others are inexpensive; make sure to choose a location that best fits your budget.
Northern Europe, Australia and North America are all expensive destinations, while South East Asia, Southern Asia, Eastern Europe and South America are all inexpensive locations where it is possible to travel on less than $1,000/£650 per month.
#5 – Plan your backpacking trip in advance, but leave some room for spontaneity
When planning a backpacking trip, it is sensible to decide on a general plan before setting off. That way, you can plan your trip so that you are able to travel to all the places you would like to visit in a particular country.
However, it is also important to leave ample unplanned space free for spontaneous side trips. One of the joys of backpacking is not having to stick to a set itinerary – make use of this freedom by leaving free space for random and unplanned trips to unexpected locations.