Asia is my home these days, but I understand for first-time visitors it can be a bit chaotic! Tutuks, vendors, crazy languages – it can all be a little overbearing so when you're feeling road-weary, think about a detour to Singapore.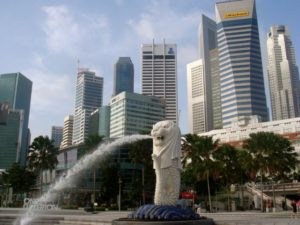 Remember though Singapore isn't priced like the rest of SE Asia so be prepard to splash some cash, or if you really fall in love with the place, you could always stick around, check out some teaching jobs in Singapore and stay indefinitely. I did something similar in Thailand and never regretted it!
Singapore is a great place to get your Asian bearings, Asian food, Asian humidity but none of the chaos. It's the bridge between the East and the West. When you make it here, book the best deals on hotels in Singapore and be sure to check out the top 5 things to see in Singapore.
1)   The Merlion:
Singapore's mascot, and an icon of the country. The head of a lion and the body of a fish, the name stems from the original name – Singapura, the 'lion city'. The views around the whole area there are amazing, especially with the new Marina Bay Sands hotel and casino overlooking the bay.
2)   Sentosa Island:
The island is completely recreation-driven, and although the scenery alone is breathtaking, it's the activities that fill your day. The museums are great, the dolphin sanctuary is cool and the beaches are second to none. Give yourself at least one day to get through everything.
3)   Chinatown and Little India:
All of Singapore isn't so sterile, and both Chinatown and Little India are a tribute to the rest of Asia! The food in both centres are great, the temples are beautiful and the atmosphere is manic, you'll feel like you're in Asia again.
4)   Singapore Night Safari:
The first nocturnal zoo in the world, the open tram runs around the 40 hectares, so spotting animals is no issue at all. Watching the animals in their 'natural habitat' amidst a huge city is a really unique experience.
5)   River Trip:
It might be a little bit of a tourist haunt, but it's an undeniably great way to see much of the city – running through Clarke Quay, Marina Bay, Boat Quay etc. Seeing it from the water level gives you a whole different insight.
There you have it guys, if you're getting worn out with the craziness, book flights to Singapore and enjoy some respite. Happy travels!