Sri Lanka, formerly known as Ceylon, is a fascinating island country located off the Indian subcontinent in the northern part of the Indian Ocean. Diverse in people, languages, landscapes, religions and history, this small nation produces everything from tea and coffee to gemstones and cinnamon. For the tourist who loves to experience the biodiversity of Planet Earth, Sri Lanka's tropical forests and national parks are almost without equal.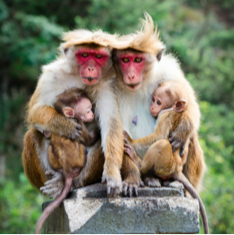 Leopards, elephants, monkeys, jackals, untold species of birds, and many more creatures abound throughout the country's national parks, and the range of flora is stunning as well. In fact, there are hundreds of species in Sri Lanka that exist nowhere else in the world.
The island's remarkable biodiversity developed over thousands of years due to its isolation from the mainland. Add to that isolation, the heavy rains of monsoons, the dramatic variations in altitude, and the wide range of climates, and the Sri Lankan island boasts as much variation in plant and animal life as some entire continents do. And remarkably, the practice of preservation in Sri Lanka is an old one. In recognition and reverence of the place's impressive beauty, natural sanctuaries have been set aside by Sri Lankan royalty for over 2,000 years.
These days, there are over 500 preserved spaces and parks on the island, and they amount to over a quarter of the island nation's total area. If you're looking for a vacation spot that will have you falling in love with wild places and creatures all over again, look no further. If you're really interested in environmental conservation, consider staying at one of the best hotels in Sri Lanka, and get yourself to some of these excellent national parks.
1. Yala West National Park
Plenty of birds and animals call Yala home, and the park itself if a lovely example of the island's lowlands and coastline. Considered the top national park in Sri Lanka, it's definitely one of the best spots in which to get your mammal fix. The most popular inhabitants of Yala are the Sri Lankan leopards, a subspecies that is common to the island. Despite being endangered, in some parts of the park, there are as many leopards as one per every two to three square miles, which makes sightings very likely. In addition, you can see toque macaques, golden jackals, Indian palm civets, and mongooses, as well as over 200 different species of birds.
2. Uda Walawe National Park
This reserve was set aside in order to protect the watershed of the Uda Walawe Reservoir. Located just south of the Central Mountains, this park is an exciting mix of grassland, jungle, and forest. For lovers of Asian elephants, Uda Walawe is the best place in the world to spy them in the wild. However, if you're hoping for a cornucopia of mammals in addition to the elephants, Uda Walawe will most likely disappoint you, although there is some excellent bird watching to be had.
3. Minneriya National Park
Minneriya boasts hundreds of animal species, many of which range between being quite common to endangered. Located in the north-central part of the island, this park is one of the driest areas in all of Sri Lanka. During the dry season that runs from June to September, the park is home to the world's biggest gathering of Asian elephants when over 300 of these impressive animals converge on dried-up Minnerya Lake to take advantage of the rich, lush grasses that cover it in the absence of its waters. You can also take a quick trip to the ancient ruins of Polonnaruwa's monasteries and palaces, which are close to the park, as well.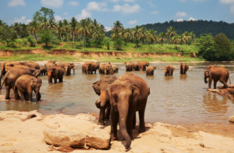 4. Sinharaja Forest Reserve
A stunning rainforest located in the southwest corner of the island, Sinharaja is a fauna and bird lover's paradise. The rainforest's canopy reaches as high as 150 feet, and over half of the tree species are found in no other part of the world.
The bird flocks of Sinharaja are also unique in that they're often mixed species — many of them made up of birds that are prevalent to the island. There are also scores of other animal species here, including the purple-faced langur, Sri Lankan leopard, and the barking deer.
5. Wasgamuwa National Park
Located among the dry lowlands of the North Central Province, Wasgamuwa is the park to visit if you're hoping to spy big game animals including leopards, sambar, buffalo, elephants, and sloth bears. Largely enclosed by two large rivers, Wasgamuwa enjoys a reputation of being one of Sri Lanka's most pristine reserves, and it boasts a number of bird species as well.
Take a trip to Sri Lanka, where the wild world not only exists in splendor, but is also well preserved. From Asian elephants to rare trees and leopards, the small island of Sri Lanka is a treasure among the world's natural treasures.