Singapore is a melting pot of cultures, resulting in great dishes from Indian Curries, Chinese noodles and other Southeast Asian cuisine. Singapore has perfected mixing ingredients from all over the world as people from different countries settled here and brought back other cooking techniques from their respective countries. It's very hard to pick the best dishes to try in Singapore as there are so many, but here are our recommended top 5 dishes to try in this beautiful country: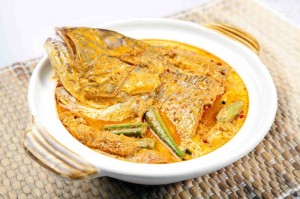 Fish Head Curry
Fish Head Curry in Singapore was originally created by an Indian ethnic group from the Southern Indian State of Kerala called the Malayalee community. This dish usually uses red snapper's heads called the ikan merah. The fish head is stewed in a spicy-hot curry with vegetables. Its distinct taste of sour tamarind makes this signature dish remarkable and will keep you coming back for more. The Chinese residents of Singapore also learned from the Malayalee community and made their own style of Fish Head Curry. They have their own way of eating it as well. One way is to wipe the curry gravy clean with a Chinese soft white bun. The sweet dough helps make the sourness neutral. Everybody enjoys a great Fish Head Curry meal when there are gatherings, birthdays or even on normal days for lunch or dinner.
Laksa
Laksa originated from the ethnic Chinese group, the Peranakans, who settled in the British Straits Settlement. This famous dish can also be found in Malaysia not only in Singapore. The dish varies a lot from region to region because there are different ways to do it. Laksa Lemak is made from rich and creamy coconut milk gravy. This dish is well known to Singaporeans and can be found in hawker centres and food courts all over Singapore. A lighter version of this dish is called Assam Laksa, served with a tangy fish-based broth. In the Eastern side of the island, you can find another variation of Laksa, called Katong Laksa. The noodles on this dish are cut up, so the dish can be eaten with a soup spoon without the use of chopsticks.
Hainanese chicken rice
This recipe was adapted from early Chinese immigrants from the Hainan Province in Southern China. This dish has its own simplicity and is enjoyed by many in Singapore. It's comprised of bite-sized chicken pieces with fragrant rice topped with a delicious ground chili and ginger paste. The accompanying paste makes the dish stunning. It is best served at normal temperature because if it's too hot it can ruin your dining experience especially when you are too hungry. Too mild and it can make the dish bland. Serving it just right can make this dish perfect anytime of the day.
Satay
Satay is one of the most famous Malay dishes in Singapore. This meat-on-skewer dish is usually dipped on a sweet and spicy peanut sauce with chopped onion, cucumber and Malay rice cakes wrapped on coconut leaves. This dish can be found in hawker centres of Singapore. Satay is like an on-the-go meal; it's fast, easy and enjoyable and can be eaten on the move. Just remember not to stab yourself with the stick. 😉
Singaporean Chili Crab
This dish is very popular around the world. Chefs from all over have tried to make their own version of Singapore's Chili Crab. This sweet and savoury mud crab dish is special because it is made with chili and tomato sauce as its base. The light flavourings of the sauce will make you want to eat more. The best way to eat this dish is to order some toasted buns called Mantou, and use it to mop up the leftover sauce on your plate.
Find yourself some flights to Singapore, enjoy a bountiful feast with these dishes in Singapore and don't forget to head to the hawkers centre, where you can eat local and budget meals all across Singapore.