The Capital of Illinois, and the home of the skyscraper, Chicago is a great spot for your backpacking trip through the USA. It's famous for having all the amenities of a big city with a banging nightlife, cool things to see and do, awesome restaurants but none of the pretentious bullsh*t that normally goes with it.
When (and I mean WHEN) you choose to come here, make sure you don't miss the 5 best things to see in Chicago, here they are:
The Sears Tower:
Chicago's most famous site, and an iconic highlight of their skyline, the Sears Tower was formally the world's tallest building and although it may have lost that status, it still offers unrivalled views  of the city, 400m up. The glass skydeck, 103 stories up should test your nerve too!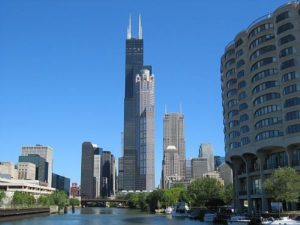 Michigan Avenue:
The 'Magnificent Mile' is the heartbeat of the city, spend a weekend afternoon wandering around here, try not to empty our bank balance in the 12 billion stores, grab a beer, sit back and watch the hustle and bustle, you'll really feel like you're in the US now.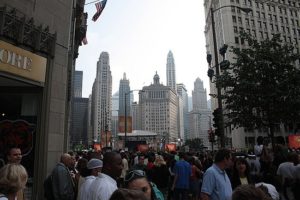 Millennium Park:
If you speak to any locals, they'll proudly tell you this is the best park in the world! While I don't know if that's quite the impartial view you were after, it's a pretty cool place! In winter, there's ice skating, in summer you can take a dip in the fountain. There is great art scattered throughout and the surrounding architecture is gorgeous.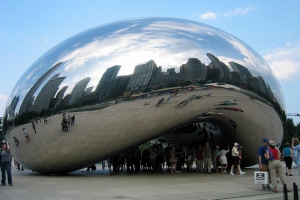 The Field Museum:
Darwin exhibitions,  explanations about the history of the world, endless information but the real draw is big Sue. The best preserved T-rex skeleton in the world, people from all over the globe come here to check out Sue. Don't miss out, it's like being in Jurassic park, sort of.
The Art Institute of Chicago:
Rembrandt, Monet, Renoir, van Gogh all feature in this world class art gallery. This is the sort of gallery that even non-art lovers can appreciate (namely, me).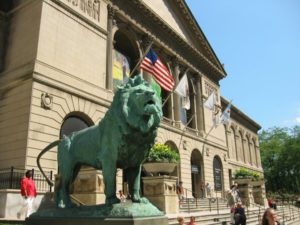 Chicago is a real gem and in a country with so many major cities it can often be overlooked. With so many cheap flights to the city, it'd be a shame to skip it. Happy travels!
Johnny