I think 70 countries deep, it's fair to say that I love traveling! But traveling isn't all Buddhist temples and national parks, sometimes you gotta hit up the cities and cut loose.
Over the years I've had a cracking time gambling what little I have budgeted for the day in Las Vegas, Macau, Kathmandu and there's nothing quite like the thrill of throwing your $50 budget on a red/black!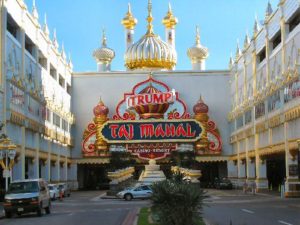 Anyways, with that in mind, check out the top 5 casinos in the world:
1)   Trump Taj Mahal Casino Resort, Atlantic City, USA
Owned by the dude with the worst toupee known to man, the Trump Taj Mahal Casino cuts no corners in its unbridled opulence. Persian rugs, Rembrandt paintings, countless appearances in movies, if you're in Atlantic City, this has to be your first stop for a punt.
2)   Wynn Macau Resort, Macau
I was actually here quite recently and no pictures truly to do it justice. The building looks like a huge sleek business card, and their profits seem to be doing alrite too, with their first quarter net a mind boggling $740 million ($40 of which was my input!).
3)   Casino de Monte Carlo, Monaco
150 years old next year, so expect some huge celebrations (the owners can definitely afford it). Mr Bond made appearances here both in Golden Eye and Never Say Never again and if it's good enough for my mate James, it's good enough for me.
4)   Bellaggio, Las Vegas, USA
It would be rude to leave this big player off the list. It was built by Steve Wynn (see Macau's entry to this list) and it's a real hotspot for pro poker. In Bobby's room stakes start at $4k/$8k!
5)   The Venetian Resort & Casino, Las Vegas, USA
My personal favourite after blagging a suite here a few years ago while pretending to be a boyband (long story, but it ended up with my mate getting married). Anyways, with canals running through the indoors you can jump on a gondola to take you to your room at the end of a nights playing. Crazy.
For any of you bucket list peeps, once you've honed your skills through drunken get togethers and online poker, hit up these 5 and really try your luck. Happy travels!