Tell just about anyone that you're going to New York City and you'll almost inevitably get asked if you're going to see a play while you're there. And chances are good you'll get asked if you're going to see "Hamilton." But "Hamilton" tickets are expensive, and what if you want to wait for the show to age a little? Never fear, there are plenty of other plays you can see while you're in New York City and experience the magic of a Broadway play. Following are some of the plays that you must see while you're in town.
The Book of Mormon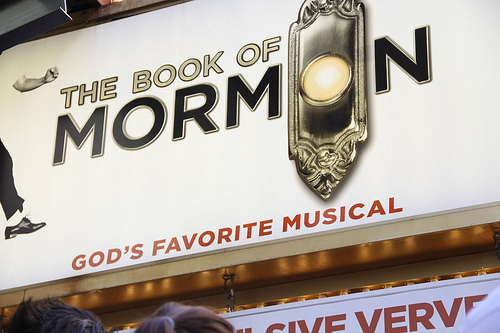 Image via Flickr by Andre-Pierre
The creators of "South Park" put all of their tongue-in-cheek and irreverent style into their first major Broadway hit. From the outside, the concept of a play poking fun at Mormons sounds a little distasteful, especially in light of the content of "South Park." Never fear! The writers used their deft touch to skirt the lines of outright offensiveness to the religion. That's not to say that the play is good, clean fun. It's far from it as it has its share of off-color comedy. The show is a fun romp and no one's sensibilities get hurt. Well, there may be a sore throat from all of the laughing, but that's the worst of it.
Dear Evan Hansen
This touching play centers around the title character of Evan Hansen, a socially awkward teenager who has trouble fitting in with his high school classmates. Through an unusual twist of fate, Hansen becomes the center of attention in his school after another classmate commits suicide. Hansen tries to bring light to what really happened, but no one listens to him, preferring instead to treat him as a hero through social media. What started out as a simple mistake turns into something bigger and deeper than Hansen ever expected. While it has a dark element in the form of the suicide, the play is thoughtful in its exploration of social media, the loss of a teenager to suicide, and how everyone deals with the aftermath.
Natasha, Pierre, and the Great Comet of 1812
This is a play that must not be missed. It's got incredible costuming and set designs, a stellar cast, and a contemporary musical score that helps draw the play along. The lines between the stage and the audience are blurred with cabaret-style seating instead of rows of seats. Cast members join the audience throughout the course of the play, bringing everyone together. It's a love story between Russian aristocrats that's complete with drama, jealousy, and betrayals. But there's nothing stuffy about this play as the language is modern, full of slang, and allusion. 
These three plays are the talk of the town and are must-sees. Don't dither or delay, get your tickets for one or all as soon as you hit town so you won't miss out on unique and exciting experiences. You'll never forget what you saw even if you never make it back to NYC.