Having spent over a year in Australia myself, I really wanted to explain in detail how the working holiday visa in Australia works. It's a great opportunity for people to explore Australia in depth and if you've got no cash, just get yourself here and start working on arrival, save up a travel fund and then hit the road when you have enough. It's perfect! So let's have  look at what it's all about: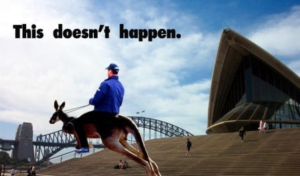 What is A Working Holiday Visa?
A working holiday visa is a visa which allows people between 18 and 30 years old to stay legally in Australia for up to 12 months. It allows you to legally work, in any field, during your time there.
What sort of jobs can I do?
Any job is fine but you can't work for one employer for any longer than 6 months. The easiest jobs to find are things to do with harvesting – fruit picking etc. And you can save a lot of money doing that.
How much money can I earn?
A lot. If you pick fruit you can earn around $18 per hour, working 6 days a week that can give you around $1k USD per week! Not bad at all. Alternatively, you can try your luck in a corporate setting in Sydney, Melbourne etc and make a very good office salary (minimum salary being $36k per year).
With lots of jobs in sales, if you're heart is in it, you can make serious money.
Can I stay longer than 12 months?
If you spend 3 of your first 12 months working in 'seasonal work' (i.e working on a farm) then you're eligible for a second working holiday visa, granting you a second 12 months.
Also, if you work for a company and they want to keep you longer than the allowed 6 months, they can 'sponsor' you which effectively  means as long as you stay employed by them, you can stay in Oz as long as you want. After 4 years, you'll then be eligible for residency.
This freaks me out

Who is eligible for a working holiday visa in Australia?

UK, Ireland, Italy, France, Belgium, Denmark, Cyprus, Estonia, Finland, Germany, Hong Kong, Malta, Norway, Sweden, Turkey.  Canada, Malaysia, USA, Thailand, Taiwan, Japan, Chile, Hong Kong.

You must be between 18 and 30 years old. For some countries, you may need to prove you have enough money to support yourself. Thai, Malaysian and Chilean applicants need to have a university degree.

How do I apply for the working holiday visa? And how much does it cost?

The visa costs $280 USD, you can apply directly through  Australia's Department of  Immigration Don't waste your time going through a visa agent, they charge you fees for something you can do yourself.  Apply online, and if everything is ok, you'll have your visa within 3 working days – emailed to your email account. Nothing is stamped in your passport.




That's it guys, an opportunity of a lifetime. Take the plunge and explore Australia. You'll meet great people from all over the world, save some real money and begin a life of travel. It's that easy. If you land in Sydney, which you probably will, there's lots of awesome accommodation available, just check online, lonely planet forums, craigs list, hotel club sydney and you'll find something to suit your needs. Happy Travels!