There are a number of regions in Spain, each with their own unique cultural identities. The perceptions, beliefs and attitudes of the local people are evidenced by the various forms of music that they play and listen to. This blog post will outline some of the distinctive musical styles that have emerged in this picturesque European country over the years.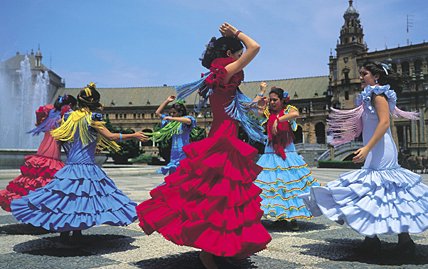 Flamenco
This passionate form of music can be heard in bars and clubs all over the world today. However, it was first played and popularised in the Southern Spanish region of Andalusia. Notable characteristics of the Flamenco music include fingerpicked classical guitar and foot stomping of the rhythmic dancers. To gain an appreciation for the fine art of Flamenco dancing you should go and watch a performance at Barcelona's Tablao Flamenco Cordobes.
Salsa
If you've been inspired by the fiery salsa performances on shows such as Strictly Come Dancing then you should definitely consider taking Spanish lessons when you're here. You might even have the opportunity to hone your skills under the guidance of experts in Madrid or Barcelona. See if you can master the normal closed hold and learn how to copa in time with the conga and timbale beats.
Tejano
This type of music was heavily influenced by the Mexican style and first played in the American state of Texas. It soon caught on in regions of Spain, such as Castilla La Mancha and Catelonia. You should head along to one of the bars in this part of the world and listen to the magical blend of accordion and bajo sexto bass guitar.
Gypsy Rumba
Spain has long been home to a large community of gypsies. They have travelled between the cities and towns and developed their very own brand of the traditional Cuban rumba. It features classical guitar playing and tapping and is accompanied by folk songs that have been passed down through the generations. You might be lucky enough to catch a performance at the Lo Nuestro bar in Seville.