Separated from the rest of the African continent by the Sahara Desert, North Africa is incredibly rich in culture and heritage. Whichever country you choose for a holiday visit, you'll never forget the sights and sounds of North Africa.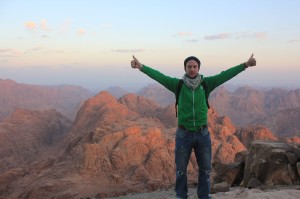 Of course, there will be quite a lot of research involved if you've decided you want to visit the area. Where should you go first? Each place has such different things to offer. We've compiled a list of the best hangout spots in North Africa, to make your homework a little easier.
Mount Sinai, Sharm el-Sheikh
Sharm el-Sheikh places a lot of importance on tourism. Who can blame them? The place has one of the most dramatic landscapes you'll ever see and the year-round dry, temperate climate makes it a great place to visit, not to mention its gorgeous natural beaches.
Sharm El-Sheikh holidays are packed full of scuba diving, snorkelling, cutting-edge nightlife and stunning cultural sights. If we could think of one thing that is absolutely necessary to visit while you're there, it would be catching the sunrise at Mount Sinai.
It's not an easy walk to the top, but if you've timed it right and you're in good shape, you'll never forget the glorious sight that awaits you at the summit.
Kozybar, Marrakech
If the hustle and bustle of the streets of Marrakech is starting to get to you, it may be time to escape to the solitude of Kozybar, a trendy hangout spot in the city. You'll have to be a little careful though – you might end up here every night, with a bottle of wine, taking in some of the most beautiful views of the city available.
The bar boasts a subtle, classy interior, with a beautiful terrace for gazing out at Marrakech. Keep an eye out for the storks in the square!
Restaurant-Café Seles, Sousse
Frequently touted as the best restaurant in Sousse, Tunisia, there's plenty of reasons as to why Seles enjoys such popularity; it's the one place to head to for authentic cuisine, a cosy and charming atmosphere, as well as the best Tunisian coffee you'll drink during your visit.
The menu is extensive within the boundaries of Tunisian cuisine. Whether you go for the Tunisian salad with Harissa, or the typical Tunisian couscous dish, you'll be happy you came here. The coffee has a sublime secret ingredient, too – orange flower water.