Chicago is a city known for its food. From the deep dish pizzas to the fully-loaded, Chicago-style hot dogs, this city can send you home fully satisfied, and maybe a few pounds heavier. Many people think it's hard to fit in all the best foods from all the best places in Chicago, but there are two ways to experience the best foods that Chicago has to offer in just a few short hours.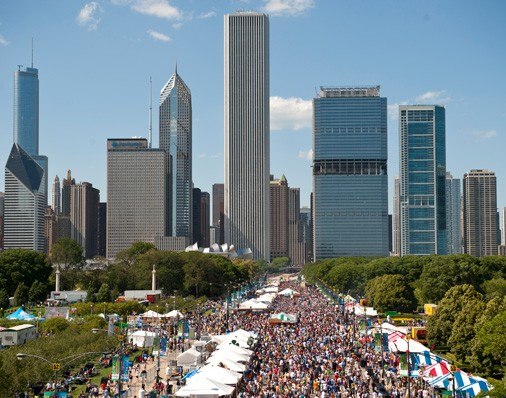 Luckily, for a few days every year, the Taste of Chicago comes to town and people from all over come to treat themselves. This festival is one of the biggest Chicago attractions of the entire year, even though it's only here for five days! Come one, come all, because this is something everyone deserves to experience at least once in their life! The Taste is currently the largest food festival in the world, and every July, over 300 menu items from all over the city come to Grant Park, and over 3 million people come to enjoy them. Pizzas, desserts, local craft beers, BBQ, Italian beef, Polish sausage, Asian delicacies and more are all hosted at this event, so there's something for every foodie, and every picky eater in their family can tag along and find something they like too!
On top of all the foods to choose from, the festival is free to attend (although of course, the food is not) and there are bands and performances happening on several different stages throughout Grant Park. Attendees can sit on the grass and happily listen to music or watch one of the films rolling on the big screen as they dig in to their hearty platters of the Chicago food they know and love, and then some foods they've probably never tried before. Variety is the spice of life, and with over 300 menu items to choose from, variety is what every Chicago traveler can expect at the Taste of Chicago.
While The Taste is only around for a few days each year, Chicago travelers still have the opportunity to sample all of these great foods any day they come to the Windy City. Many of the most popular restaurants in Chicago attend the festival, like the Billy Goat Tavern, Lou Malnati's pizza and the Original Rainbow Cone. Many people think it's hard to fit in visiting all of the top spots in the city on their one trip, but it may be a lot easier than you'd think.
Be sure to bring your appetite with you every time you visit, because one of the best things to do in Chicago is book a food tour that allows you to sample many of the best foods in city in one afternoon. While you don't have 300 menu items to choose from on your tour, you still have a wide variety of options. Many more options than you'd get sitting down to a regular meal at a restaurant. Choose one of the Chicago pizza tours and go backstage to five or six of the most famous pizzerias in the city, or choose a food tour with a little more diversity and get your pizza, plus a hot dog, cupcakes, a hearty sandwich, fine chocolates and more. Yes, more. On top of all these foods, you're on a guided tour, walking from restaurant to restaurant past some of the top city sight like the Willis Tower, The Bean, the Chicago Theatre, museums and more. It's not quite as much food as you can have at the Taste of Chicago, but Chicago food tours offer pretty fantastic way to taste (and see) Chicago.
There's more than one way to eat your way through Chicago, whether you're visiting during the largest food festival in the world, or any other time of year. Between these two options, you don't let any famous restaurant in Chicago go unvisited on your next trip!
This article was written by Lizz Riggs, editor of ChicagoTraveler.com.