Komodo National Park, which is located between the islands of Flores and Sumbawa, was initially founded to conserve the Komodo Dragon. The dragons are still the major draw of the area since it's the only place they live but people also travel there for scuba diving, hiking and sailing.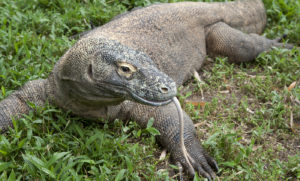 In 1986, UNESCO declared the park a World Heritage Site and a Man and Biosphere Reserve, which goes to show how biologically important it is.
To get to the Komodo Islands, where the park is located, you first need to fly to Bali. From there, you have a few choices for getting to your destination.
Getting to Labuan Bajo
The best home base for exploring the Komodo Islands is Labuan Bajo, which is located on Flores Island. To get there, you can either fly or take a ferry.
You can take a small plane from Bali to Labuan Bajo. You may want to book your seat in advance because the flights fill up. If you can, get a window seat, because the flight is quite scenic.
If you're feeling more adventurous or are on a budget, you could take a public ferry, which will take about three days. If you prefer, you can also take a trip on a liveaboard cruise straight from Bali.
Join a Tour
One popular option for getting to the Komodo Islands from Labuan Bajo is joining a tour run by one of the many tour companies that operate in the area.
Be sure to research the tour companies thoroughly, because some have had safety issues in the past. There are many reputable companies in the area, though, that will ensure your safety and also make sure you make it to all the most popular destinations.
The kinds of boats you can get vary. If you want a more upscale option, you could join a tour on a Komodo liveaboard yacht with a private cabin. If you're on a tighter budget, you may sleep on the deck but will still get to visit all the must-see locations.
Charter a Boat
If you prefer a more private option, you could opt to charter a boat. To get the most out of your trip, you should get one for at least two days and one night. You could rent one for longer but, since most boats are small, you may need to stop to replenish your supplies. Some larger boats are also available.
The two main options for boats are those with a cabin and those without. Most of the small boats come with a crew of two. Prices can vary, but you can expect to pay around $300.
Komodo National Park may be a little bit tougher to get to than some other tourist destinations, but that's because it's a truly unique and natural treasure that's tucked away in a corner of the world. Getting to and traveling around the islands, though, are part of the adventure and help make trips there unique, as do the famous Komodo Dragons.