Egypt is fast becoming a diving Mecca. With its temperate year-round climate, far reaching sandy beaches and calm turquoise seas brimming with marine life it's understandable that sun-worshippers and divers alike are flooding to the Arabic state. Many tourists are looking for cheap holidays to Egypt and these packages are readily available from a vast array of tour operators to suit many different budgets and requirements.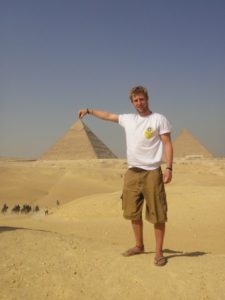 Take Thomas Cook for instance – one of the UK's most established tour operators. Thomas Cook holiday deals offer some of the very best prices for accommodation and flights which means all you need to do is pack your swim wear and remember your passport. With many fabulous resorts on the books, you will be spoilt for choice when it comes to making the final decision as to where to stay. The first decision is of course to decide which area you want to stay in. If you're interested in discovering some of Egypt's historical treasures then Luxor and Cairo are the perfect places. The Karnak Temple, Great Sphinx and of course the famous Pyramids of Giza are just some of the many star attractions. These sites will appeal to and fascinate even the most jaded culture vulture.
If however you are there for the sea, either on the beach and relaxing to the max or diving beneath the waves to see some outstanding marine life, which includes sharks, turtles and dolphins, then Sharm-El-Sheikh, Hurghada or El-Gouna should definitely be on your short list. Sharm-El-Sheikh has over 250 corals and more than 1000 species of fish in the clear waters of its coast. The Red Sea is for the most part very calm, therefore providing top-notch visibility for divers and snorkelers alike. Or for those that prefer to stay air-side then the glass-bottomed boats will be sure to give you a good view of the wonders of the Egyptian sea.