A side of backpacking that most people don't think about prior to hitting the road is getting visas as you travel. Lots of countries don't allow you to just turn up at a land border or airport and waltz right into their land, sometimes you have to go to their embassy in another 3rd party country and apply for a tourist visa, get it stamped in your passport and then you're free to enter.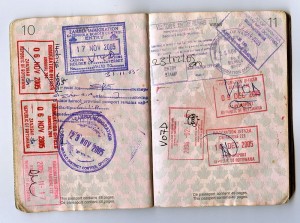 This can be a little tricky, and you have to jump through hoops occasionally but if you keep your head screwed on, toe the line and apply a little effort then it doesn't have to be the headache it could otherwise be.
Here are 5 tips to make sure you get the visas you need in time:
1) Check public holidays:
This is the golden visa rule, check the public national holidays of the country you're in and for the country that you're applying to. Some countries have an unbelievable number of public holidays and during those days, their embassies are closed. Plan accordingly.
 2) Dress as smart as possible
If you're going to a country that's notoriously difficult to get a visa for, then dress smart. Collared shirt, jeans and sneakers are even a vast improvement on flip-flops, board shorts and a Bintang Bali vest! Visas are granted on a case-by-case basis so make a good impression, no hangovers and booze-breath either folks. Every little helps.
3)    Always bring at least 3 passport photos, 2 passport photocopies and a pen
You don't wanna queue for 60 minutes only to be turned away for not having the right photocopies. So make sure you bring passport copies, passport photos and a pen for all the form filming, you'll regret it if you don't.
4) Go 20 minutes before the embassy opens, some have limited visas per day
Consular sections generally open between 9.00am to 12.00pm each morning. Aim to arrive around 8.40 and join the queue, this 20 minutes could save you hours of queuing later on. Also, some embassies have limits on the amount of applications they process each day, make sure you're not on the wrong side of that rule!
5) Check visa requirements, especially whether or not the country requires flights in and out of the country:
Countries, like China for example, require transport in and out of the country before they grant visas. If this is required, you can book your (refundable) flights through an agent early, get your visa, refund your flight and carry on. This is a great trick! Also, websites like expedia print out provisional booking screens before you pay anything, these often work as 'confirmed transport'
There you go peeps, hope this makes the bureaucracy  just a little bit easier. Happy travels!