Just off of the Western Coast of Morocco is the small island of Fuerteventura. This is part of the Canary Islands and is what I like to call a gem off of the beaten path. There is no shortage of beauty on the island and the vibrant colors and laid back atmosphere that the island boasts can be found in any of its incredible hotels or resorts. We've made a list of ten of the best hotels that you could stay in while visiting Fuerteventura.
Blue Sea Dunas Caleta Club
To kick off this list is the Blue Sea Dunas Caleta Club in Corralejo. You can see what I mean by vibrant colors as the red flowers are strong in front of the golden fountain a clear blue water. The Dunas Caleta Club is a great hotel to use as a base for exploring the rest of the island as it has a central location and is also close to the beach and a host of shops and restaurants. The rooms are apartment style making them more appealing to those who are happy with some self serving.
Barcelo Fuerteventura Thalasso Spa
Relaxation is the key word when staying at the second location on our list, the Barcelo Fuerteventura Thalasso Spa. The popular hotel sits directly on the beach and is not far from shops, bars, and nightlife. The spa has high standards of service and does all that it can to ensure complete and total relaxation. This can be seen in the Thalassotherapy center which offers a variety of treatments and massages. The spa is also a short distance from two 18 hole golf courses if you prefer a different kind of relaxation. I can only imagine what playing the front nine looks like in this paradise.
Barcelo Jandia Club Premium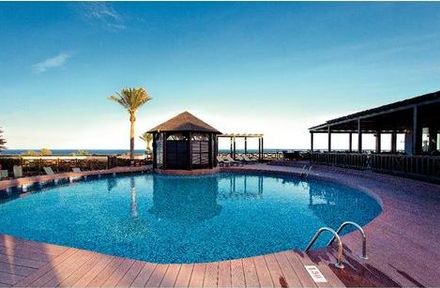 Almost no location is better when looking for a mature holiday experience. What I mean by that is if kids aren't your cup of tea, then Barcelo Jandia Club Premium may be the perfect place for your vacation. You must be at least 18 years old to stay in one of the rooms here and that just solidifies the adult fun that can be had. This club is set back in the hills surrounded by lush gardens and first class facilities. The beach is a bit further than most other hotels and resorts but is accessible by tunnel. I like to think that the beach, while wonderful, attracts many people and with this club set in the hills overlooking the beach, it may have just the privacy that you are looking for.
Hotel Costa Caleta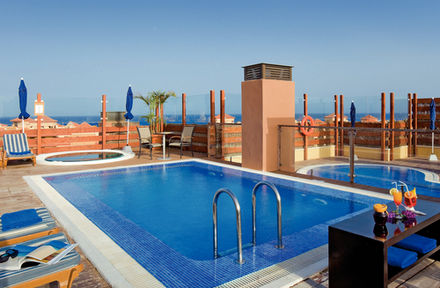 This is a great choice for an all inclusive family stay in Fuerteventura. The Hotel Costa Caleta offers everything you need so you never have to worry about leaving the grounds for any reason at all. Restaurants, shops, bars, and entertainment are all included in your package when you stay at this hotel. One of the coolest features here is the rooftop pool tanning deck which is shown above. Sorry kids but its adults only up there which can make this quite appealing to mom and dad when they want some alone time.
Elba Carlota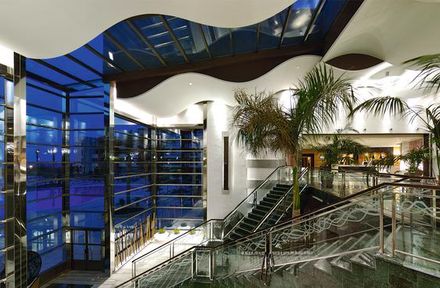 As we chug along on our list we come to the modern and brilliant Elba Carlota. Other than the extreme stylish design of the hotel there are two major draws that cannot be overlooked. First, the beach is literally just out of the door. It can take you no more than 10 minutes to wake up and be on the beach with an umbrella drink. The second draw is that directly across from the hotel on the other side is an 18 hole golf course. Even if you aren't a golfer, the course is still a beautiful thing to see.
Aparthotel Broncemar Beaches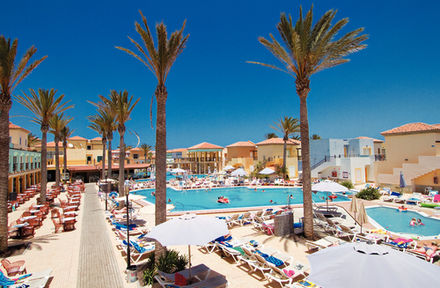 The Aparthotel Broncemar Beaches is a unique holiday experience as it is set up village style with guests renting out apartment rooms to live in for the duration of their stay. It has a great location for use of the main beach and resort facilities of Costa Caleta. There is no one type of group that this hotel is perfect for. Whether you are a family or a couple you can find all you need inside of the facility or just off the grounds. For the younger visitors, there are plenty of options for nightlife and bars very close by.
Oasis Village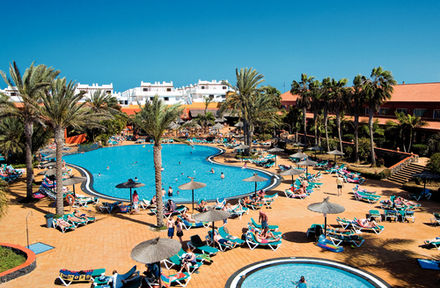 This is another opportunity to stay in a village style complex as you rent out an apartment. There are tons of activities on site at the Oasis Village in Corralejo. They host weekly barbeque evenings, tennis, ping pong, bicycle rentals, volleyball, a sauna, massage options, and a bowling alley. Full disclosure though about the bowling alley, guests are only allowed to use it once a week and it is located at the Oasis Papagayo Hotel. While staying here you are also close to a water park and the Corralejo sand dunes. Both of these attractions can make for fun day trips outside of you hotel.
Elba Castillo San Jorge & Antigua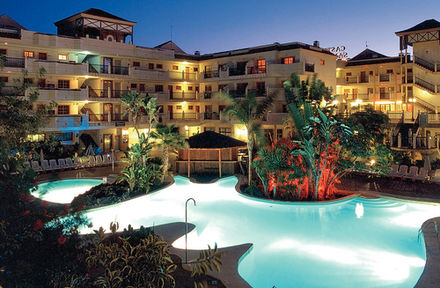 Another location with prime real estate in the form of beachfront property is the Elba Castillo San Jorge & Antigua. This hotel is self catering but also offers all inclusive packages. There is a wonderful pool and beach bar for guests to enjoy all day. When you have gorgeous weather, cool waters, and drinks nearby, I don't think there is much else you could ask for. Since you have that trifecta in two different spots here, I don't think you could go wrong in booking!
Suite Hotel Atlantis Fuerteventura Resort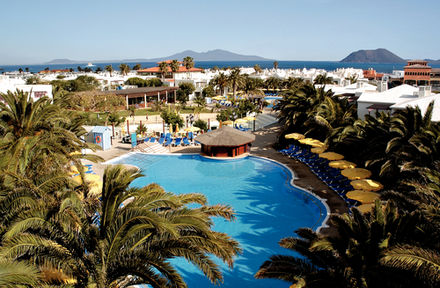 The Suite Hotel Atlantis Fuerteventura Resort gives its guests a quite and relaxing environment to make for an enjoyable stay. There are bright gardens that adorn the grounds and there is a very homely feel to the resort making guests comfortable and wanting to return. The spa offers massages and beauty treatments and there is also an indoor theater to enjoy. While there is a variety of sport activities on hand, they may not be offered depending on the number of participants that show interest in playing.
R2 Rio Calma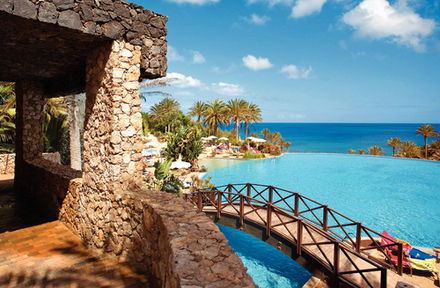 The final hotel on our list is the R2 Rio Calma. Just because it is the last hotel on the list does not make it any less appealing than the previous nine. In fact, it may be more incredible. It sits amongst 16000 square meters of awe inspiring gardens just outside of Costa Calma. The infinity pool gives the illusion of swimming in the waters of the Atlantic. This surreal experience can make your stay an unforgettable one. The list of activities at the R2 Rio Calma is incredible with opportunities to participate in beach volleyball, mini-golf, aerobics, archery and much more. The Roman style spa on the grounds offers a hydro massage pool, whirlpool, Turkish baths, saunas, and beauty treatments. There is also entertainment on any given evening including live music, shows, and dance performances. This hotel will not disappoint.
Nothing should be stopping you now. Enjoy the beautiful weather, atmosphere, and all else that Fuerteventura has to offer. Seriously, stop reading and book in one of these top notch hotels!
–Nick