Ok guys, so after letting you know about tips to find a cheap flight, I thought we'd run you through the process of actually finding and booking a cheap flight. Having visited more than 50 countries in the last few years, I seem to spend a lot of time flying so here is my process at finding cheap flights: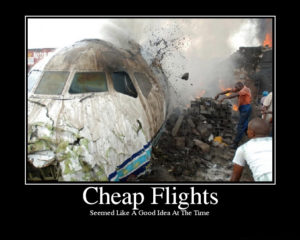 1)   Use 2 or 3 different flight aggregator site to get a ballpark figure that you should be paying. I use skyscanner, Kayak and cfares. Search for the dates that you want, plus one week either side of the dates you want, to find the cheapest day to fly.
2)   Once you find the cheapest flight, go direct to their website and see if it's cheaper. This can often be the case so don't necessarily book through the aggregator. If it's cheaper that's cool, but you're not ready to book yet.
3)   Find the budget airlines that fly the route. This involves a bit of legwork from you guys I'm afraid. The aggregators don't include all the budget airlines so do some googling and try to find what other airlines fly that route, check out their homepage. You can use whichbudget.com to help you find any other sites, also this page in wiki shows all budget airlines per country which is pretty helpful too. Another way to do this is to go to the airPORTS website and check the airlines that fly into it.
4)   After you've found the cheapest flight, if it's not direct then look at booking both legs independently. I saved a fortune doing this flying from Australia to the UK, instead I booked Australia to Malaysia and Malaysia to UK independently and saved around $400. Check out the budget airlines that fly each leg and look at their sites and time/dates to see if you can do it yourself.
5)   If you're flying to a smaller airport, only book to a major city. For example, you want to fly to Chiang Mai? Book to Bangkok, and organize the smaller flight yourself. If you book all the way through to Chiang Mai you just pay a premium for the service, don't let them shark you!
6)   Check out other routes. Lastly, if you want to fly to Washington DC or Philadelphia, check the prices to JFK and Newark and perhaps you can connect onto your destination for cheaper. Also check for flights to nearby cities too.
These 6 babies should really help you save a fortune, just run through this list anytime you're ready to book a flight and you're certain not to get ripped off. Just jump to the airport, leave your car at Edinburgh airport parking or Glasgow airport parking or wherever you happen to be and you're all set for the trip of a lifetime!